Last week while more than 400 new positive COVID-19 cases and 44 more deaths were reported in Westchester County, the first delivery of 170,000 doses of COVID-19 vaccines arrived in NYS. County Executive George Latimer held a Coronavirus briefing on Monday, December 21 and compared the total number of Westchester deaths last week to a two-month period over the summer when the county lost just 11 people to the virus.
Two vaccines have been authorized by the FDA. The first, developed by Pfizer and BioNTech, was approved unanimously by New York State's independent COVID-19 Clinical Advisory Task Force and the second, developed by Moderna.

Vaccines are Safe
"The vaccine is here and I have full confidence it is safe and effective. When it's your turn I urge you to get vaccinated to protect yourself and your community from COVID-19. To stop the spread now, continue to follow all health guidelines. Together we will beat this virus."
Commissioner, New York State Department of Health
Howard A. Zucker, M.D., J.D.
The first New Yorkers in Westchester County receiving the vaccine will be high-risk hospital workers (emergency room workers, ICU staff and Pulmonary Department staff), nursing home residents, nursing home staff, followed by all long-term and congregate care residents and staff, EMS workers, other health care workers, coroners and medical examiners. Staff at every hospital will have access to the first vaccine allocation.
The first health care workers in Westchester County inoculated were at Phelps Hospital in Sleepy Hollow where about 50 shots were administered. St. John's Riverside Hospital in Yonkers also administered about 40 shots to its nurses and doctors. New York-Presbyterian, St. Joseph's and Westchester Medical Center were expected to receive their shipment of vaccines later in the week. Those who got the vaccine will need to have a second dose about three weeks after the first. As of Monday, between nursing homes and frontline healthcare workers, about 38,000 people have been vaccinated in New York State so far.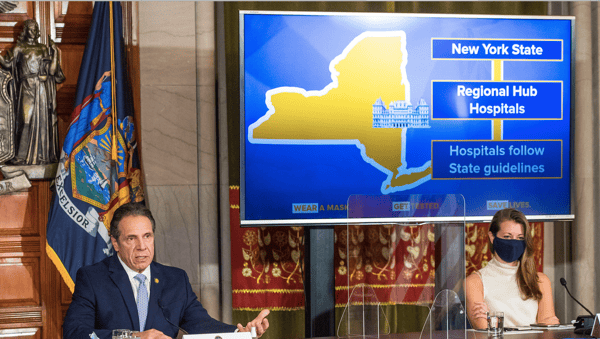 Last weekend, New York Governor Andrew Cuomo explained the NY Department of Health guidelines on how the COVID-19 vaccine will be distributed, ensuring that every New Yorker who wants one will have access, starting with the most vulnerable. As a result of the uncertainty of the delivery of which vaccine and when, the plan breaks down regional populations into six different groups based on matter of priority, and five sub-groups for each to most efficiently vaccinate by order of need.
Vaccine-Priority Recommendations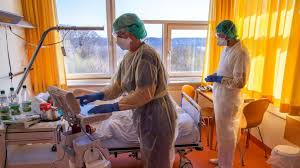 Phase 1 – Healthcare workers in patient care, with priority to ICU, ED, EMS, etc.; long-term care facility workers who interact with residents regularly; most at-risk patients in long-term care.
Phase 2 – First responders, teachers and school staff, childcare providers, public health workers, other frontline workers (pharmacists, grocers, transit workers, etc.) who interact with the public, other long-term care facility workers, members of the public at high-risk due to health.
Phase 3 – Anyone over age 65 and those under 65 with health risks.
Phase 4 – All other essential workers.
Phase 5 – Healthy adults and children.
On December 20, the Center for Disease Control (CDC) released additional vaccine-priority recommendations.. Adults aged 75 and over and frontline essential workers are in the second priority group, which include first responders, teachers and other education workers (including day care workers), food and agriculture workers, correctional facility staff, postal workers, public transit workers, and people who work in manufacturing and in grocery stores.
Now included, along with frontline healthcare workers and nursing home residents and staff, are federally qualified health center workers, EMTs, coroners, medical examiners, funeral home workers, and other congregate care residents and staff with prisons still on hold. In addition, this includes Pharmacy workers who are giving vaccines under a federal program that is sending CVS and Walgreens employees to administer vaccinations in nursing homes.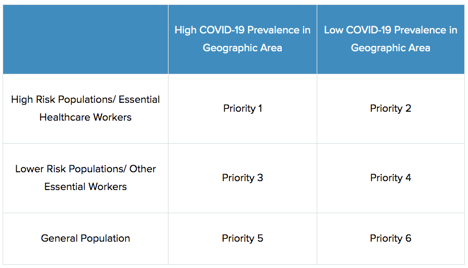 New York State Department of Health
High-risk populations and essential healthcare workers in high- and low-infection rate areas will constitute Priority 1 and 2 groups.

Lower risk populations and other essential workers within those locations will comprise Priority 3 and 4,

Priority 5 and 6 will include the remaining general populations.
If needed, these groups can be broken down further to ensure that a vaccine is administered to the most in-need groups first and then disseminated to others based on availability.
The plan also tries to address some of the numerous unanswered logistical and financial questions, including lack of guidance from the federal government on response, rollout, or even how a vaccine will be paid for. However, per the CDC draft, they anticipate that the vaccines will be provided to Americans at no cost.
In regards to allergic reactions and negative reactions following inoculation, a post-vaccination reporting system will allow recipients of the vaccine to report any negative effects they experience.
"This is a massive undertaking," says Governor Cuomo. "This is a larger operational undertaking than anything we have done under COVID to date. This is a more complicated undertaking and task and we need the federal government to be a competent partner with this state and with every state."
For more information on the NY State Vaccine Administration Program, a lengthy 96-page document, read in full here. Drafted in consultation with leading health experts and clinicians, the plan covers distribution methods and prioritization for any vaccine, its administration at approved sites, public outreach and education, data reporting, and even the technology necessary to track and execute the operation.
Stay tuned for Part 2 to find out where and when seniors can get their vaccines.If you have any questions about your loved ones and the COVID-19 vaccine, please call your primary care physician or Barbara Moran, RN, STEPS Director of Patient Care 914.618.4200.