COVID-19 doesn't take holidays off. Health experts in Westchester are issuing a clear warning with more than a 1000 new COVID-19 cases reported over the weekend in Westchester. Connecticut has a worrisome surge in cases as well and residents can learn more about local cases and hospitalizations in Governor Lamont's live COVID-19 press conference.
Bottom line is visiting family and friends for Thanksgiving can put everyone in danger. Westchester County Executive George Latimer encourages residents to keep their Thanksgiving celebrations small and as safe as possible this year and to follow these Health Department's Tips for a healthier holiday.
"This is the year to make your Thanksgiving gathering more intimate, and to cherish your immediate family members and traditions. Consider setting time for a virtual visit with distant relatives and friends," suggested Latimer.
Greenwich Public Schools posted a helpful guide to keeping safe during the holiday with tips such as pre-dinner screenings, using disposable products and do not serve from as a Buffet and serve plates individually.
---
Small Informal Gatherings are Driving the Surge in Westchester and Fairfield County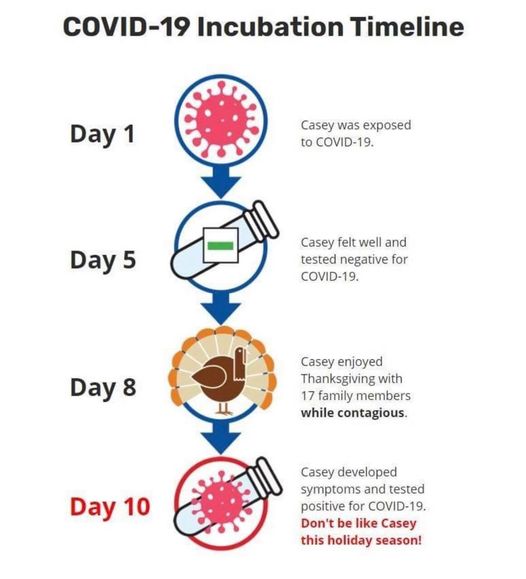 The best way to show you love someone is to keep them safe. Looking and feeling fine are no measures of how infectious someone might be. The CDC says that up to 60 percent of COVID-19 transmission come from people who are asymptomatic or pre-symptomatic. It is 14 days with a median time of 4-5 days from exposure to symptom onset. 97% of persons with COVID-19, who develop symptoms will do so within 11.5 days of infection.
---
How to Have a Memorable
Virtual Thanksgiving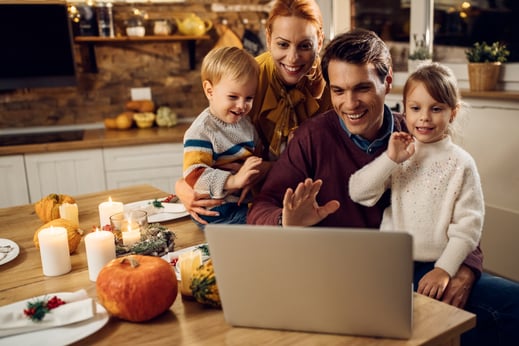 Here are 5 STEPS Home Care suggestions to create a memorable and thoughtful virtual Thanksgiving for your family.
Decide on a virtual online meeting platform beforehand and give it a test drive so grandparents can learn to how use it. Arrange to connect with your STEPS Home Care aide to practice virtual meetings with your loved ones before Thursday. At Zoom headquarters in San Jose, the staff is watching how users are creatively adapting the videoconferencing tool that, before the pandemic, was primarily used in the workplace. Zoom recently announced that for users who don't have an account, the 40-minute limit will be lifted for one day on Thanksgiving. Esther Yoon, group manager of product marketing at Zoom, is pregnant and has family around the world. This year, they will be connecting on Thanksgiving using Zoom.

2. Select and share a Thanksgiving recipe beforehand and suggest that everyone prepare the dish at the same time virtually. You can also order the groceries online and have them sent in time for the cooking. Try one of Westchester Magazine's 10 recipes that will make you the star of your Thanksgiving dinner . Remember to add some holiday ambiance while cooking and put on your favorite holiday tunes, make some yummy smelling mulled apple cider and set your phone, laptop or tablet up for best viewing.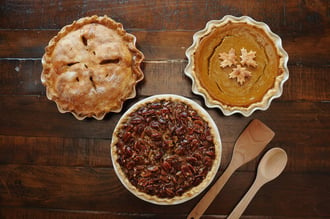 3. Bake a Pie. If you live near your family and friends, prepare and deliver a Thanksgiving pie, and then enjoy it together virtually. If you are not in a baking mood, CT Bites magazine has voted on the 45 best pies in Connecticut in this week's post CT Bites Best Pies. One of our favorite dessert and pie caterers is Aux Delices in Greenwich, Riverside, Darien and Westport. Baked by Susan's, Croton-on-Hudson, Sour Cherry Pie was voted a Best Of in Westchester.
4. Support a Local Restaurant or Caterer. For people in the same region, support a local restaurant or caterer and order your Thanksgiving meal to go. Here is a list of local Westchester and Fairfield County favorites suggested by one of our STEPS clients who did her homework in advance: Aux Delices, Prime Steakhouse in Stamford, Garelick and Herbs, Rye Country Store. If you belong to a Westchester or Fairfield County Country club and need to use up your food minimum, give them a call. For a last minute standby there is always Boston Market in Mamaroneck and Old Greenwich to fill in the missing menu items.
5. Engaging Activities: Being Thankful, Playing Games and Crafts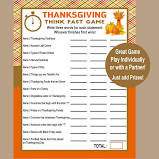 Place Be Thankful Note Cards at each place setting and let each person fill in their blank index card.
It is a good idea to put one or two family members in charge of the agenda for the online holiday as planning ahead will help with the flow of the activities.
Is your clan into crafts? Check out this list of fun crafts. Send a list of instructions and craft supplies to folks a few days before Thanksgiving and create the craft together online. If you hurry, you still may time to drop off craft care packages to family and friends who live in your town.
Thanksgiving Trivia- Download
Best Thanksgiving Games for families
Thanksgiving Family Feud Games
Thanksgiving Charades Online
Most importantly, cherish this time in person and virtually, and say a blessing for all you are grateful for today and for good health for the months to come.
---
We Wish you and your Loved Ones
A Healthy and Happy Holiday Weekend.