Summer wedding season in Westchester and Fairfield County is here and busy brides, grooms and parents are planning the last details of the event. While distracted by this happy milestone, don't forget to also include your senior loved ones before and during the special occasion. Read more to find out how to show them how special they are by giving them a front row seat not just at the wedding, but during all the planning stages as well.
1.

Pull out the wedding photo albums

of your parents and grandparents...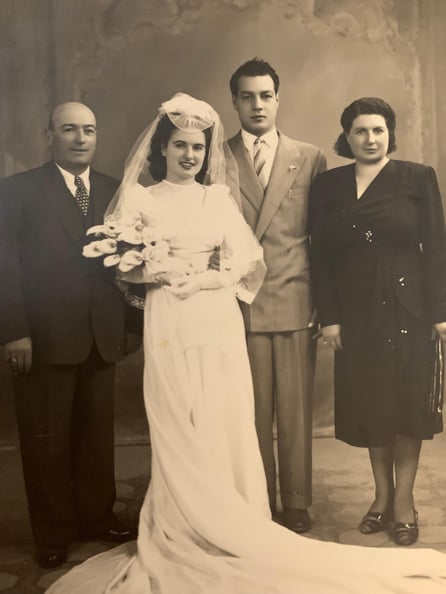 Spend the time to ask them who the guests were, what they wore, where the reception took place and any funny stories about mishaps or errant guests. My father met my mother at a wedding when they were a groomsman and a bridesmaid and there is a humorous story of a first date months later when he had no idea who she was as he only had a phone number on a napkin to call.
---
2.

"Something old, something new,
something borrowed, something blue,
a sixpence in your shoe"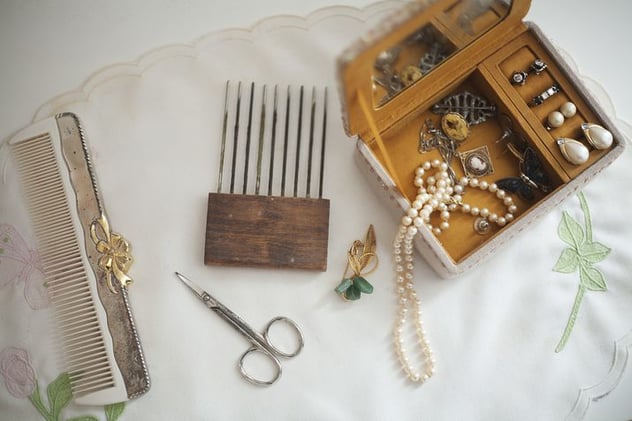 This is the well known British rhyme for superstitious brides to follow in the name of luck. And what better way to involve your grandmother than to borrow something "old" from her for the occasion. This often includes a piece of jewelry worn by the bride's mother, grandmother, or aunt.
---
3. Have a special photoshoot
with your grandparents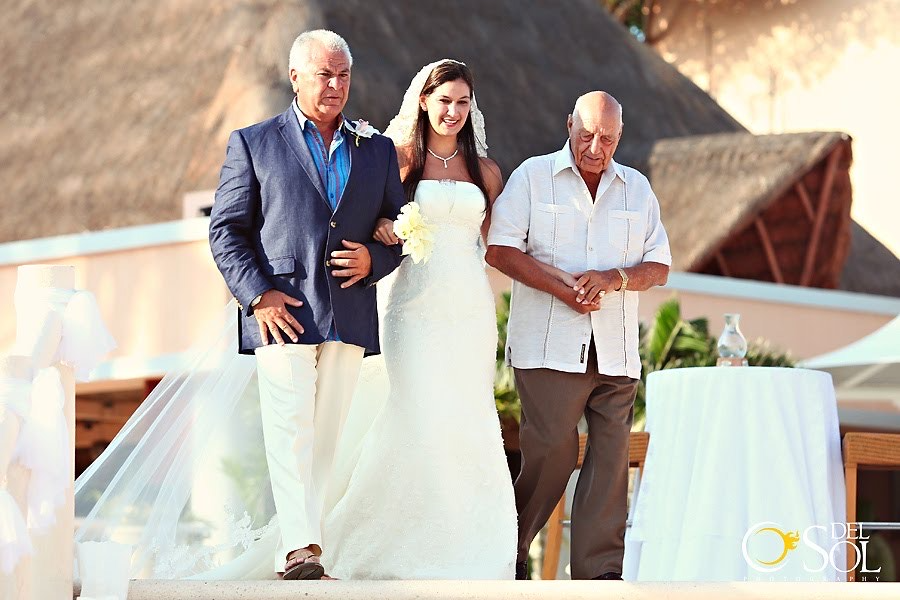 Remember that you will be posing for photos all day. Be certain to do the special photos with your senior loved ones before they get exhausted or overheated on a hot day. Gather them before or shortly after your ceremony to take photos with you, your new spouse, your parents, your siblings and your in-laws. Make sure you have cold drinks on hand and a place to sit and rest. Also maybe consider a separate photo shoot staged inside with air conditioning for their comfort.
---
4. Give them a special role in your ceremony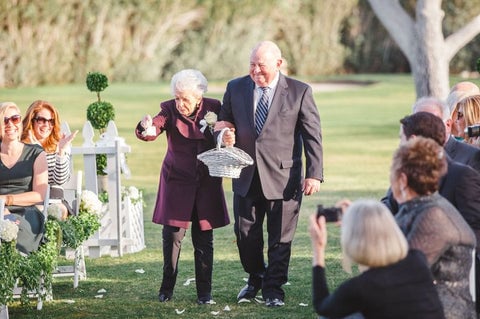 Not all weddings have to follow the traditional march down the aisle. Why not let your grandparents take on the role of "flower grandparents" or let them deliver the ring or read a special note. Letting them deliver a toast also makes them feel a welcome part of the event,
---
5. Give Grandparents VIP Seating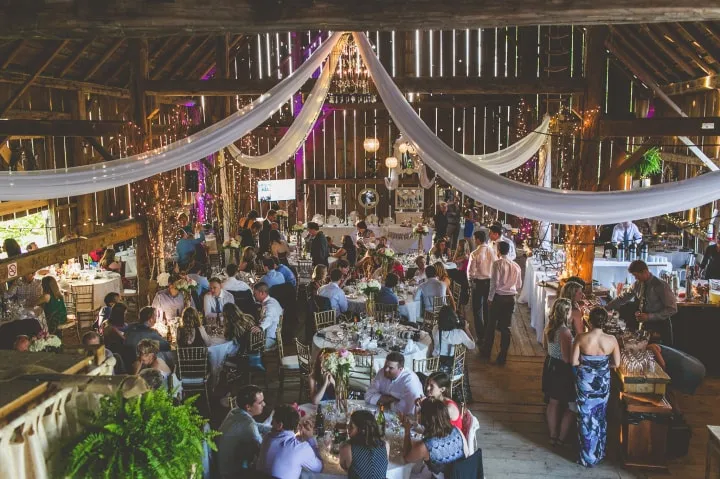 Your grandparents should have spots reserved in the front row of the venue so they can easily view and hear everything. The grandparents of the groom are the first to enter and are seated on the right side in the first or second row. Ushers can escort a grandmother if so desired. Grandparents of the bride would follow immediately after & are seated on the left side.
During the reception, they should have designated seats either at or close to your head table. Pro tip: Don't place them at a table next to your stage or speakers, especially if they're sensitive to noise.
---
6. Ask them to join in a special dance
to a wedding song from their era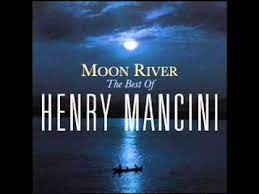 After asking our STEPS Home Care clients, many recommended Moon River from the film Breakfast at Tiffany's.
Moon river, wider than a mile
I'm crossing you in style some day
(Oh, dream maker, you heartbreaker)
Wherever you're going
I'm going your way
Two drifters off to see the world
There's such a lot of world to see
We're after the same rainbow's end
Waiting 'round the bend
My Huckleberry friend
Moon river and me
---
7. If they are unable to attend, create a table at the reception with photos to honor them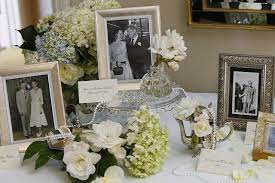 Find a way to show photographs that include pictures of your loved one(s). You could place framed photos on a table with your guest book, or put a collage of images on a board, perhaps with brief stories about or quotes from your loved one alongside the pictures. Another idea would be to have a digital frame with rotating photos or include the pictures as part of a wedding photo montage show.
---
8. Add a Story about your

Grandparents In Your Toast

...or better yet, let them give a toast too. You can also thank them in your ceremony program. You can add a simple poem, or a brief story about a fond memory with them in your own speech.

---

9. Be Sure to Help them pick out a Dress

that Fits and is Comfortable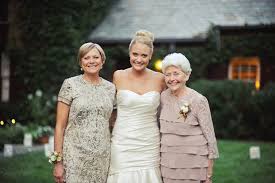 Our client's granddaughter was married this past weekend and we asked her for tips on how to make the selection of a dress and the fitting for the grandmother as easy and comfortable a possible. After many attempts to shop for a dress and shoes, her advice was:
Do not take them to a shop in person for clothing or shoes as it is too stressful.

Order online where you can get free or inexpensive returns. Order several months ahead of time.

Try on all outfits in the comfort of their own home.

You need two people involved in the dressing process.

Stick to local department stores as she found Macys had the best and most inexpensive options, some under $100.

Keep in mind comfort for Shoes. She recommends a brand found on Amazon - Revere shoes and sandals.

Set out all clothing and shoes ahead of time with plenty of time to get dressed

.