The effects of music on our brains are remarkable, no matter what type of music we like listening to. Research has shown that music can provide joy and social bonding and lower stress hormones. Another study shows that enjoying music in the company of others may affect more than a dozen key brain functions and may even boost our immune system.
Earlier this year, we posted a blog that examined how listening to music and singing positively impacts the memory and emotions of someone who has Alzheimer's Disease: Dementia and Alzheimer's patients could recall memories and emotions, and have enhanced mental performance after singing classic hits and show tunes from movies and musicals.
This week, we have put together a list of our favorite local live music venues for Westchester County and Fairfield County you too can enjoy live music with your senior loved one. Read more to find out what is playing near you.
Westchester County, NY

Yonkers, NY 914.613.4502
Deborah Dunne, RN, Director of STEPS Client Services, lives in Yonkers and recommends going to the Untermyer Gardens Conservancy. The conservancy announces its second annual Minnie Untermyer Concert Series. Taking place from May 28 to September 4, 2022 in the amphitheater in the magnificent Walled Garden and overlooking the length of this monumental Indo-Persian space, eleven concerts have been scheduled. There will be classical orchestral and vocal music, as well as three dance performances. Popular offerings will include both jazz and American songbook. A gospel choir from Brooklyn will be featured, as well as Indian and Persian fare.
---
Katonah, NY 914.232.5035
Caramoor Center for Music and the Arts is a destination for exceptional music, captivating programs, spectacular gardens and grounds, and wonderful moments with friends and family. It enriches the lives of its audiences through innovative and diverse musical performances of the highest quality. Its mission also includes mentoring young professional musicians and providing educational programs for young children centered around music.
Audiences are invited to explore the lush grounds, tour the historic Rosen House, enjoy a pre-concert picnic, and discover beautiful music in the relaxed settings of the Venetian Theater, Spanish Courtyard, Music Room of the Rosen House, and the magnificent gardens.
---
Yonkers, NY. 914.963.4550
All performances in our 400-seat outdoor amphitheater, which boasts a stunning view of the Hudson River and the Palisades, are free and begin at 8pm, with doors opening at 7:30pm. No reservations required.Seating is on a first-come, first-served basis. Free parking is available.
Plus, between July 15 and August 19, 5–7pm, enjoy pay-what-you-wish general admission at Summer Fridays!
---
Tarrytown, NY 914.631.3390
---

Paramount Hudson Valley Theatre
Peekskill, NY 917.739.0039
Originally built as a 1500-seat movie palace by Publix Pictures, a subsidiary of Paramount Pictures, the Peekskill Paramount Theater first opened its doors to the public with great fanfare on June 27, 1930.
The Inaugural program featured an overture by the Paramount Symphony Orchestra, an appearance by the village mayor, and "A Paramount All-Talking Picture," The Big Pond, starring Maurice Chevalier and Claudette Colbert.
Today the newly dubbed Paramount Hudson Valley is managed and operated by the nonprofit Paramount Hudson Valley Arts 501(c)(3) with a goal of making this landmark theater a destination for the very best of live music and performing arts.
---
Fairfield County, Connecticut
Greenwich, CT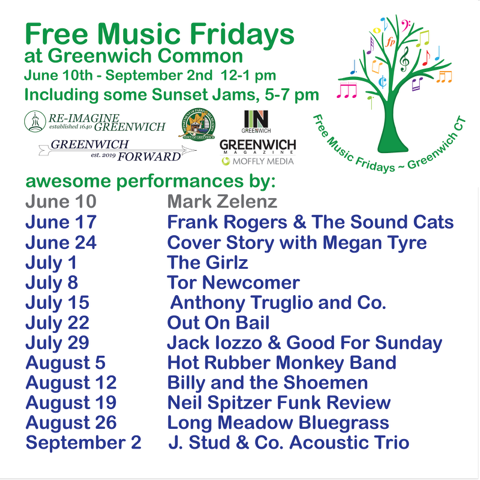 Free Music Fridays is back on Greenwich Avenue for the summer, and the lineup promises to feature music for all to enjoy.
Concerts begin every Friday at 12 p.m. at Greenwich Common on Greenwich Avenue.
Produced by Greenwich Forward, Re-Imagine Greenwich, and the Town of Greenwich Parks and Recreation, the concert series features local artists. Check out the full schedule here...
---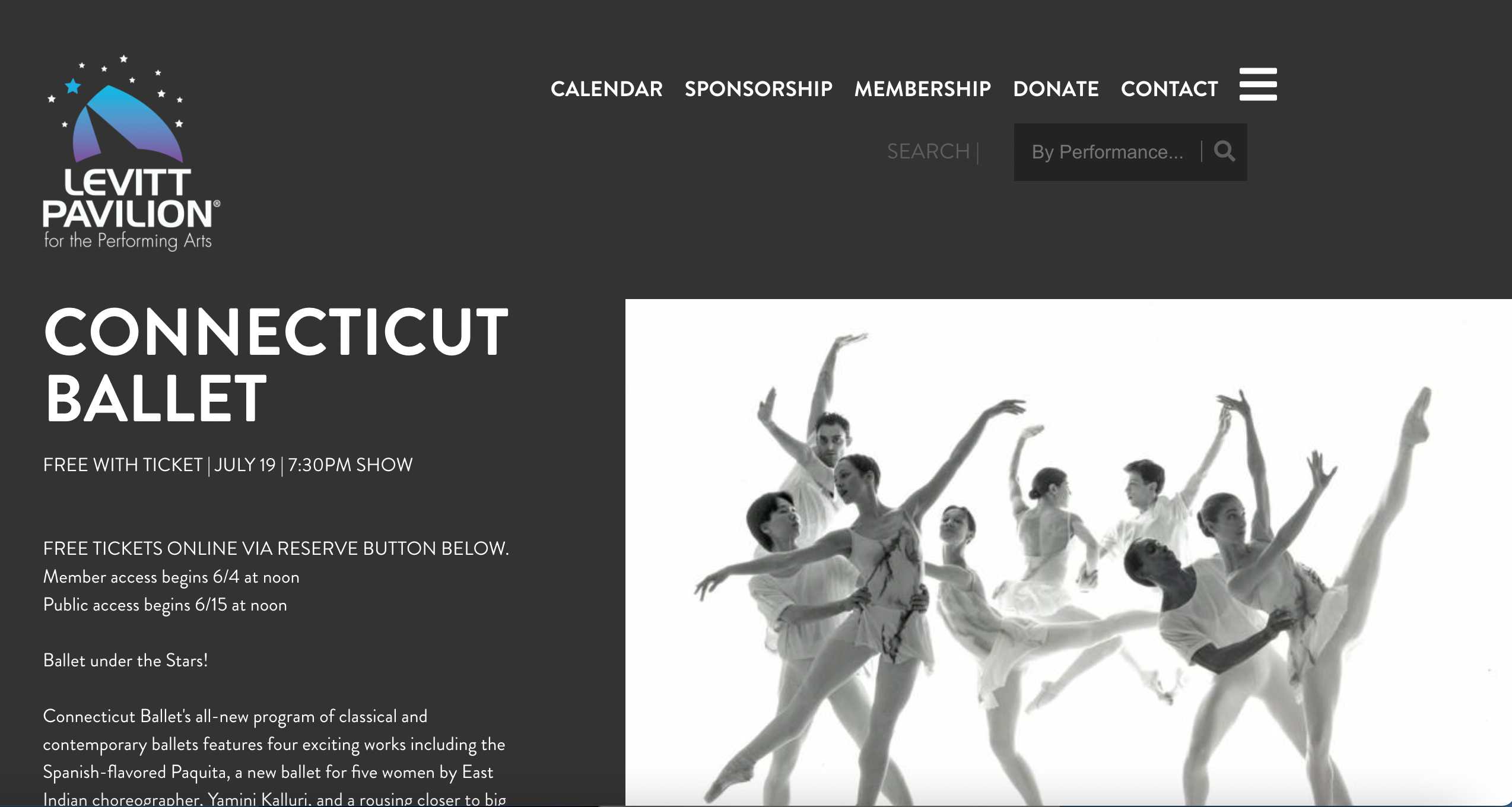 Westport, CT 203.602.4122
Check out the live music and dance performances under the stars.
On July 19, the Connecticut Ballet performs and free tickets can be reserved online. Connecticut Ballet's all-new program of classical and contemporary ballets features four exciting works including the Spanish-flavored Paquita, a new ballet for five women by East Indian choreographer, Yamini Kalluri, and a rousing closer to big band music, Threads From a String of Swing.
On July 26, join the Larry Fuller Jazz Quartet. NYC-based, Yamaha-endorsed artist, Larry Fuller is one of the premier mainstream jazz pianists living today. Fuller was the last pianist with legendary bassist Ray Brown's Trio, member of Jeff Hamilton's Trio, and John Pizzarelli's Quartet. Since 2013 - harnessing his unique bandstand collaborations with the giants - Fuller has led the Larry Fuller Trio, generating hard-swinging, emotive and versatile performances that his audiences love.
---

Ridgefield, CT. 203.438.5795
After three decades as a high school and town theatre, the beautiful performance and meeting space was abandoned in 1972, when a new, larger high school was built. The stage was donated by Patricia Schuster who founded The Ridgefield Civic Ballet (known at The Ridgefield Conservatory of Dance today). Finally, in December of 2000 The Ridgefield Playhouse opened its doors with a performance by Jose Feliciano. Over the years that number has consistently grown to where now The Ridgefield Playhouse presents more than 200 live shows annually, plus movies, hosting more than 100,000 patrons each year
Today, the Playhouse has music, dance, Broadway performers, comedy, speakers and more. It shows hundreds of movies, livestreams classical performances from around the world, and entertains thousands of school children with its Arts in Education program, and donating tens of thousands of dollars-worth of tickets to low-income families with its Arts for Everyone initiative.