STEPS Home Care, a family owned and licensed Home Care Services Agency serving Westchester, Nassau, and Fairfield Counties, has been awarded the distinguished 2021 Best of Home Care –Leader in Excellence award from Home Care Pulse, the leading firm in quality assurance for home care. STEPS also was recognized by Caring.com with the Caring Star Award, 1 of 4 to be recognized among the hundreds of home care agencies in Westchester County.
"These awards are more about our Caregivers than they are about us. Throughout the pandemic, our Caregivers have sacrificed to help keep their patients safe. They have limited contact with the outside world even when they aren't at work, in order to better care for their patients. If it weren't for them and their dedication, we would not have won these awards." said Shan Wade, President and Co-Founder of STEPS Home Care.
STEPS Home Care is…
Only 1 of 3 recipients of the Leader in Excellence award in Westchester County, NY.
ONLY recipient of the Leader in Excellence award in Nassau County, NY.
Only 1 of 3 recipients of the Leader in Excellence award in Lower Fairfield County, CT.
Only 1 of 4 recipients to be awarded the Caring Star award in Westchester County, NY.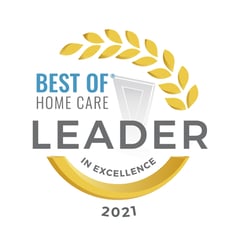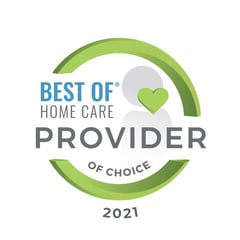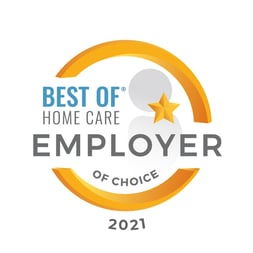 The Leader in Excellence Award is the highest recognition awarded by Home Care Pulse and is given to select home care businesses that consistently rank among the very highest in 10 or more quality metrics. As a As a Leader in Excellence, STEPS Home Care is now ranked among the top 10% of home care providers participating in the nationwide Home Care Pulse Satisfaction Management Program: These awards highlight agencies that have consistently achieved exceptional Client and Caregiver Satisfaction Scores.
"We are thrilled to be recognized as one of the very best home care providers in the nation, Westchester, Nassau and Fairfield Counties, and we congratulate our management team and caregivers on earning these prestigious awards," said Jennifer Martire Baukol, owner of STEPS Home Care.
To qualify for the Best in Home Care award, 10% of Steps Home Care's clients and caregivers were interviewed each month by Home Care Pulse. Over a 12-month period, STEPS Home Care received high client and caregiver satisfaction ratings in areas such as caregiver training, compassion of caregivers, communication, scheduling, client/caregiver compatibility, etc. Using feedback from clients and employees, as well as quality benchmarks from Home Care Pulse, the STEPS management team set goals to reach the highest level of excellence possible.

This award showcases STEPS Home Care's Five Star ratings in over 45 client reviews. This is emblematic of their mission to create a home care experience that goes beyond client and caregiver expectations.
Review on Caring.com - January 22, 2021
"I am a current client of this provider. They've completely put my siblings and me at ease. We've had them for several years. We know our mother's taken care of. They're our third or fourth agency. Compared to the other ones, they're fantastic. They actually return phone calls. They've been very responsive and well-run."
"This is an incredible achievement," added Shan Wade. According to Shan, "STEPS was founded eleven years ago, and our first client was a close family friend. Today we have four offices in White Plains, NY, New York, NY, Stamford, CT, and Garden City, NY. In total, we have helped over 675 families and today we employ between more than 200 Caregivers, all of whom we consider our extended family."
According to Erik Madsen, CEO of Home Care Pulse, "When we see agencies like STEPS that have made an effort to provide outstanding care and employment experiences, we know we're on the right track. STEPS has worked extremely hard to provide high-quality care and employment, and their work hasn't gone unnoticed. This award allows them to provide proof of quality to potential and new clients and caregivers."
To find out more about STEPS Home Care's commitment to excellence, please visit www.stepshomecare.com or call (914) 618-4200.
Jennifer Martire Baukol, Lisa Martire Wade, Shan Wade, their children and extended families.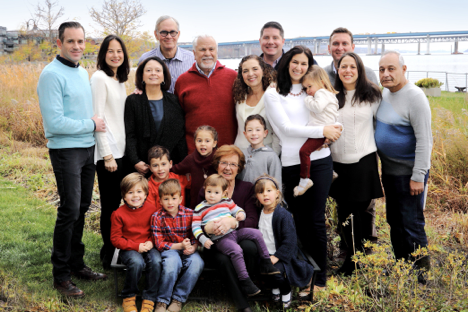 3 Barker Ave. 2nd Floor
White Plains, NY 10601
t. 914-618-4200
f. 914-618-4201