Congratulations STEPS Home Care, located in Westchester, Fairfield and Nassau Counties, for being awarded the prestigious Caring Stars award for earning the reputation of one of the best senior care agencies of 2022. Our clients and caregivers have spoken and their reviews reveal why we have won this award for three years in a row now!
"They've made the experience positive by finding such excellent aids for my father who get the job done. I like how they are very responsive and try to always send quality caregivers."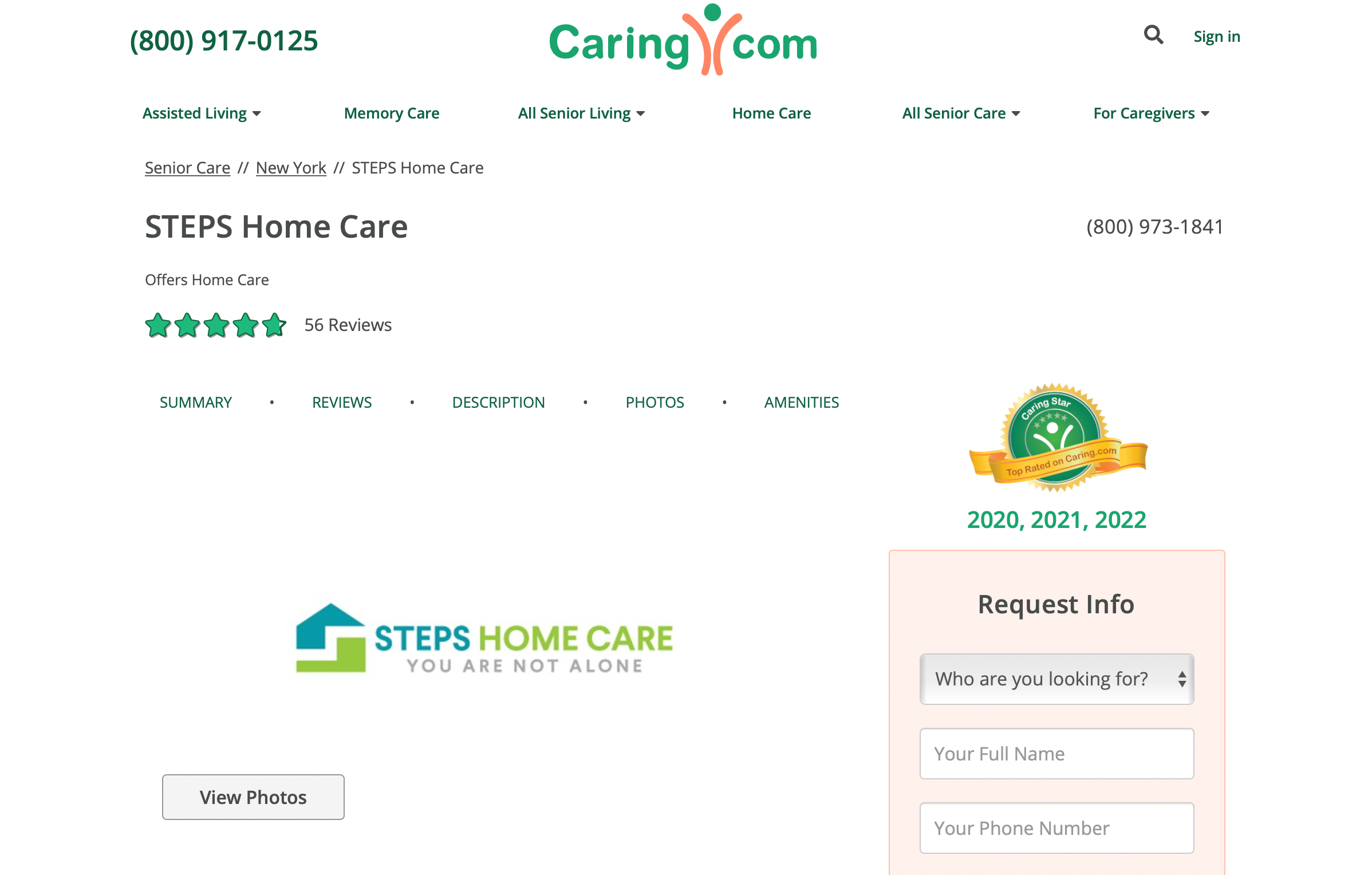 The Caring Stars award program helps family caregivers and older adults find top-rated senior living communities and in-home care agencies in their region in the United States. The program also helps elder care businesses get the well-deserved kudos for service excellence that they deserve.
"The most important part is they help with her dressing, meals, and everything. I recommend them all the time. They employ excellent aides who are very skilled. They are wonderful human beings."
To support seniors and their families in finding the best agencies, Caring Star shines a spotlight on the top-rated in-home care agencies in the nation. These trusted home care agencies, including STEPS Home Care, received this award based on reviews written by seniors and their families around the nation.
Congratulations STEPS Home Care
To be considered for the distinguished Caring Stars 2022 list, senior living communities, nursing homes and senior care agencies must have had:
10 or more published reviews on their Caring.com profile by 10/15/21

An overall average rating of 4.5 stars or higher by 10/15/21

3 or more published reviews from 10/15/20 through 10/15/21, with at least one of the recent reviews being a 5-star review and one or more published in 2021

Public-facing responses to any 1-star or 2-star negative reviews
"My mother is very independent and was not accepting much help, however, it made me feel a lot better knowing there was someone with her at least. I liked the company, I felt that they cared about my mom and they did their best when there was a pandemic. They sent people in no matter what."
In addition to the above qualifications, Caring conducts a reviews-integrity audit for every review on every finalist's directory listing. Another quality-assurance measure Caring takes is to screen finalist senior living communities using available licensing and inspection reports on state/government websites.
According to Caring Star, there are more than 15,500 online searches per hour in the United States related to senior living and care (up from 6,000 per hour in 2017). When seniors and their families search for senior care information, many of these searches focus on finding consumer reviews. Caring.com — a leading senior living referral service and the nation's top site for senior care reviews — today released "Caring Stars 2022," Caring's annual list of the best senior care agencies. Previously (in November), Caring released its annual best senior living community list.
This new list directly addresses searchers' needs for reliable consumer reviews of agencies offering in-home care, home health care, or hospice.
Caring Stars started in 2012 as the first service-recognition program of its kind in the senior living industry, expanded to include home care in 2017, and is now a popular guide for consumers online. Caring's expertly-managed and integrity-focused reviews program highlights for seniors and their families which agencies have earned the most and best praise from their customers.
After the COVID-19 pandemic drew more attention to the vulnerability of seniors and boosted consumers' use of the Internet, consumer reviews with Caring increased 58% in 2021 versus 2019 (Jan.-Oct.). Home care agencies help address loneliness and isolation of seniors, while supporting their safety and well being — generating increased positive feedback in reviews about their services during the pandemic.
"This has been an unprecedented and very challenging couple of years, and the senior care industry rose to the occasion, as it always does," said Caring's CEO Jim Rosenthal. "We applaud the Caring Stars of 2022 and other senior care agencies nationwide, for earning such high praise from their customers in online ratings and reviews. These agencies are staffed with caregivers who dedicate their careers to helping seniors — and it shows. We appreciate the ongoing opportunity to share our information, insights and expertise with seniors and their families as they research and choose senior care agencies in their area."
Caring Stars is the most trustworthy way for seniors and their families to quickly and easily identify online the best performing senior care service providers according to consumers. To be considered for Caring Stars, a senior care agency does not need to be partnered with Caring.com.