When it comes to the COVID-19 vaccine, we know you and your family have many questions. Read on for important vaccine-related information to help you feel informed and hopeful that together we can conquer the COVID-19 pandemic and get back to a "normal" way of life.
1. Where can Westchester seniors access information on scheduling a Covid-19 vaccine appointment?
Westchester County's Department of Seniors Programs & Services will be helping seniors navigate the vaccine appointment process. County Executive George Latimer said the department stands ready and able to assist the aging population so they can feel comfortable getting through the process of vaccination.
The department has an information and assistance phone line that is available to help Westchester's seniors from 8:30 a.m. to 4:30 p.m. weekdays at 914-813-6300.
Tania Savayan, The Journal News
Staff will help seniors and senior caregivers access and obtain vaccine appointments. However, if there are no appointments available on the state system due to the lack of vaccine doses then the county cannot find a vaccine for you.
2. How much does the vaccine cost?
$0
Hundreds of millions of vaccine doses were purchased by our Federal government with taxpayer money and anyone in Westchester or Fairfield County will not have to pay for a shot.
Vaccine providers are able to charge an administration fee for giving the shot, but this fee should be covered by public or private insurance, or by a government relief fund for the uninsured. No one will be denied a vaccine if they are unable to pay the fee.
3. Can I still get COVID-19 after getting the vaccine?
Yes.
It's unclear whether someone who's been vaccinated can still become sick with COVID-19 and how long immunity will last, although more details on the vaccine's effectiveness should be revealed from ongoing research studies: The longer the studies go on, the longer we know how long immunity lasts. The first doses were given in 2020 during clinical trials and we are only x months into surveillance.
"That's something that the recipients will have to understand when they get the vaccine," says William Schaffner, M.D., an infectious disease specialist and professor of preventive medicine at the Vanderbilt University School of Medicine. The vaccine provides protection, but it is not a 100% guarantee of immunity. Just because you roll up your sleeve and get the vaccine doesn't mean you can throw away your mask and disregard other prevention efforts such as social distancing and handwashing. Those will be crucial "for quite some time" in order to get control over the virus, Schaffner says.
4. Are both doses really necessary?
Yes.
Both the Pfizer-BioNTech and Moderna vaccines require two doses, and following through with both doses is necessary to ensure effectiveness. There are new COVID-19 vaccines being introduced and tested in clinical trials that require only one dose.
According to the CDC, the first shot starts building protection, while the second shot "is needed to get the most protection the vaccine has to offer."
5. Do I need the vaccine if I have already had COVID-19?
Yes.
The jury is still out on whether or not having had COVID-19 will offer you "natural" immunity, today or years from now. To date, evidence suggests this natural immunity may not be very long. It also suggests that getting the virus again (reinfection) is uncommon in the 90 days after the first infection: The CDC suggests getting a COVID-19 vaccine even if you have been sick with COVID-19 before.
According to the CDC, if you were treated for COVID-19 symptoms with monoclonal antibodies or convalescent plasma, you should wait 90 days before getting a COVID-19 vaccine. Check with your doctor if you do not remember what treatments you received or if you have questions about getting a COVID-19 vaccine.
6. Is the COVID-19 vaccine safe and effective?
Yes.
The FDA is responsible for protecting public health by ensuring the safety and efficacy of drugs, including vaccines. They have now issued an Emergency Use Authorization (EUA) for the BioNTech/Pfizer and Moderna COVID-19 vaccines because they met the necessary safety and efficacy criteria. Learn more about the rigorous scientific and regulatory processes in place to facilitate development and ensure safety, effectiveness and quality of the COVID-19 vaccines.
7. Is It Safe to Get the Vaccine if I Have Underlying Medical Conditions?
Check with your Doctor.
People with underlying medical conditions can receive the FDA-authorized COVID-19 vaccines provided they have not had an immediate or severe allergic reaction to a COVID-19 vaccine or to any of the ingredients in the vaccine. The CDC offers additional information about about vaccination considerations for persons with underlying medical conditions. Vaccination is an important consideration for adults of any age with certain underlying medical conditions because they are at increased risk for severe illness from the virus that causes COVID-19.
8. Who Should Not Get the COVID-19 Vaccine?
Most people are able to get the COVID-19 vaccine, but a few groups of people should not get the vaccine or follow special procedures.
People who should NOT get the COVID-19 vaccine:
Anyone with a previous severe or immediate allergic reaction (i.e., one that causes anaphylaxis or requires medical intervention) to a COVID-19 mRNA vaccine dose, a vaccine component, or polysorbate

Those younger than 16 years of age

People currently isolating or experiencing symptoms of COVID-19; these people can get vaccinated once they are finished isolation and their primary symptoms have resolved.
9. Do I Need to Still Wear a Mask and Socially Distance if I Get the Vaccine?
Yes.
Now that the vaccine is being administered in "real world" conditions, rather than in a research study, you need to continue wearing a mask and social distancing.
There is not enough information available to say if or when CDC will stop recommending that people wear masks and avoid close contact with others to help prevent the spread of the virus that causes COVID-19.
10. What Ingredients are in the COVID-19 Vaccines?
According to the CDC, the two COVID-19 vaccines currently available in the United States do not contain eggs, preservatives, or latex. For a full list of ingredients, please see each vaccine's CDC Fact Sheet for Recipients and Caregivers:
---
Connecticut Agencies on Aging
This informative conference features experts from Yale New Haven Health System, Hartford HealthCare and the State Department of Aging and Disability. The Forum will explain the pathology of the virus, discuss the new variants and dispel some of the misinformation about the vaccine. It's easy to enroll and join the meeting for free using Zoom! Register here: https://www.aoascc.org/forms/aact/
All the details are on the flier below.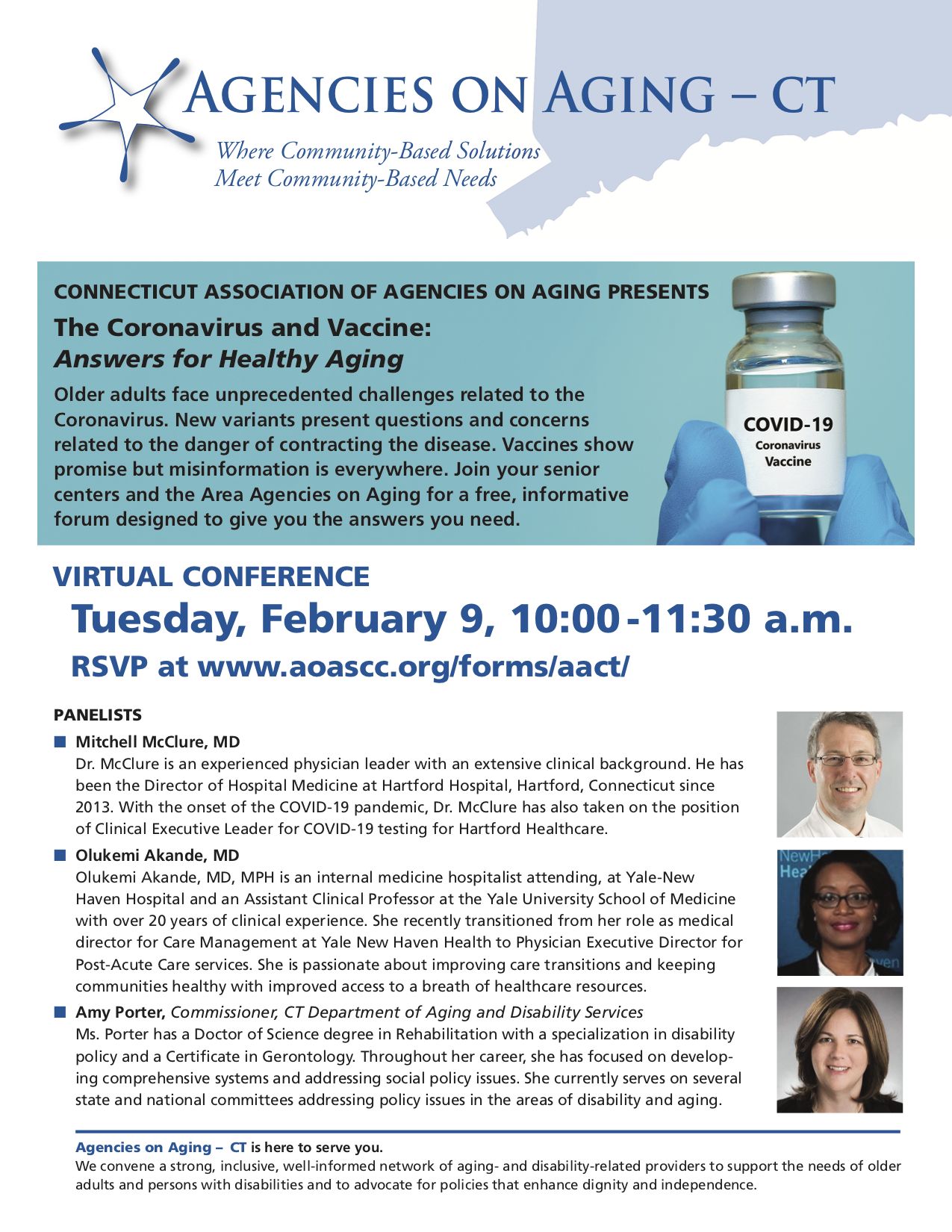 Talk to your doctor if you have more questions about getting a COVID-19 vaccine.