Unfortunately, after a senior loved one passes, family members are often left in the dark and unsure of what they would have wanted for a personal funeral or memorial service. Senior loved ones may have thought they had covered all the final planning bases and drafted a Last Will & Testament, filled out a Health Care Proxy, but may not have included how they wanted to be buried or what type of funeral service they wanted in Westchester, Fairfield and Nassau Counties. This is why preplanning is so important: We can make confident decisions regarding final arrangements and significantly reduce the number of issues that confront families in an emotional time of loss.
So once again, my 94 year old father inspired my topic for the STEPS blog post this week. My dad and I had that uncomfortable talk about what to do at the end of life in regards to his final wishes. He is certain he wants to be cremated and to have his ashes sprinkled over the Pacific Ocean. While I love this serene vision for my father's memorial gathering with a sea breeze and sunshine, I realize that this will a take a bit more planning than finding a pretty location along the California coast.! I had so many questions about logistics that will need to be addressed. Is it legal to put ashes in the ocean? Can you do this from a public beach? Can we just sprinkle half his ashes there and put the remainder elsewhere so we can honor him?
Pre Planning End of life decisions Including the funeral and memorial service
Preplanning helps to answer questions like:
Did she want a traditional funeral and burial?

Didn't he say he wanted to be cremated?

Should we have the service at the funeral home, church or in his backyard?

Should there be music? A video montage with personal music they enjoyed?
Weighing these considerations, communicating these decisions directly with family and putting them into writing will provide peace of mind
Many local Westchester Funeral Homes have excellent online information about burial and cremation services and what is to be expected. Many have in depth guides to ideas for memorial services - traditional or unique - such as Westchester Funeral Home in Eastchester, NY.
---
Times they-are a changing...
and so are funeral services
More people are opting for cremation than a traditional burial. Cremation hit an all-time high with 50.2 percent of funerals involving cremation. Choosing the right funeral service is a very personal and heartfelt decision to honor an individual.
Are you looking for a creative way to commemorate a loved one? Here is a unique list funeral and memorial concepts Remember, there really are no set rules for a memorial service, so if your loved one desires and asks, stay opened minded and explore.
---
Scattering Ceremonies
According to Westchester Funeral Home in Eastchester, NY, there are many different ways to memorialize a loved one by scattering their ashes. The following three ceremonies are the most popular.
Casting Ceremony
If you ask someone to describe an ash scattering ceremony, most will unknowingly allude to a casting ceremony. Casting is when the cremated remains are thrown into the wind and dispersed across an area of land or water. Many find this ceremony has a very symbolic feeling as you are letting go. When you spread the ashes, you are releasing your loved one to freely explore the special place you have chosen for your ceremony. If you plan to hold this type of ceremony, make sure to determine wind direction and release the ashes downwind.
Scattering gardens are slowly becoming more and more popular across North America. Many cemeteries and funeral homes now have scattering gardens where families can spread their ashes alongside other members of the community. For this type of ceremony, the ashes are spread across the ground or a garden. The remains are then gently raked through the soil to disperse them. As the remains are being raked, guests can take turns sharing memories of the deceased.
Water Ceremony
Another popular way to spread ashes is with a water ceremony. For this type of ceremony, the cremated remains are spread across a body of water like a lake, river, pond or the ocean. In most cases, the remains are transferred to a water-soluble urn which is then placed in the water. After a few minutes, the urn begins to dissolve and slowly release the ashes. Please keep in mind, there are often regulations to follow and permits to obtain before holding a water ceremony. For detailed information, please contact your local agencies for assistance.
---
Burial at Sea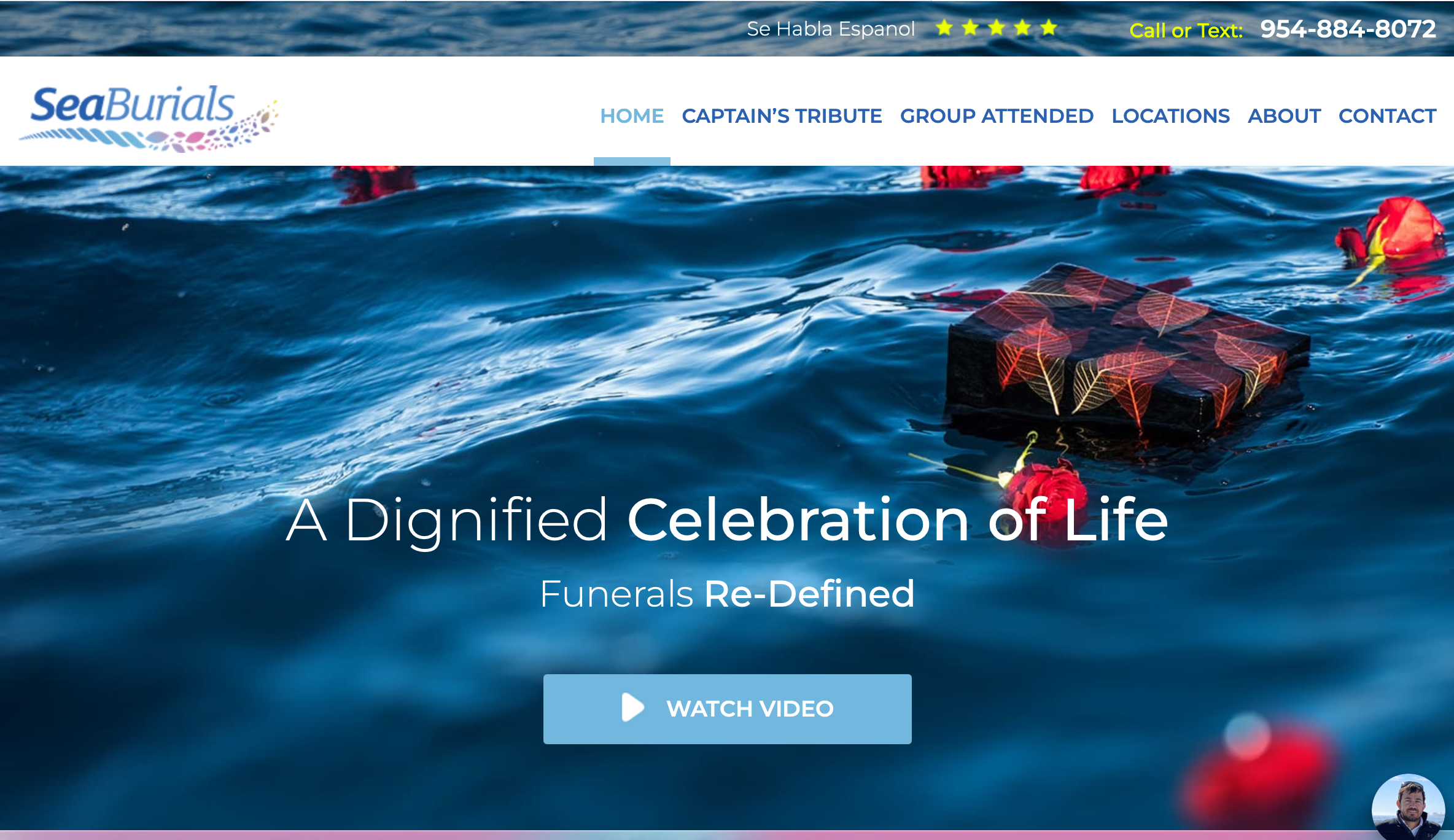 According to the Cremation Society of America, U.S. federal law allows for the scattering of ashes at sea but certain conditions must be met, including: the use of decomposable flowers and wreaths; certain notification requirements; ensuring that ashes are scattered at least three (3) nautical miles from shore; and others.
And to my surprise, if you google burial at sea, there are many vendors that appear on top of the Google search page offering various packages to assist you from chartering a boat with a licensed captain, organizing the service and providing biodegradable flowers to place over the ashes as they drift away.
SeaBurials serves all of the United States for dignified ash scattering ceremonies. They also offer Captain Tribute services in Miami, Fort Lauderdale, Palm Beaches and Naples/Fort Myers. Their mission is to " set out to change the way we remember our loved ones. A celebration of life at sea that brings you and you loved one together for the final goodbye without the melancholy of a traditional funeral."
Unattended and family attended services are provided at least three nautical miles from land.

Only biodegradable components such as natural wreaths and flowers are used in our services. Anything non-biodegradable is removed and properly disposed of.

Coordinates, depth of water and sink rate are recorded during service.
---
Green Burials
The Benefits of a Natural Resting Place
Eco or natural burials often take place in more natural spaces for a reason. Green cemeteries are spaces where low impact burials are standard, meaning that most gravesites are marked with flat tombstones or trees instead of the traditional erect headstones.
There are several types of green cemeteries around the world today. Hybrid burial grounds are cemeteries with plots for both ecological and conventional burials, meaning that certain parcels of land are set aside for using only biodegradable products.
Natural burial grounds take sustainability a little farther by restricting the ground to anything but a green burial. Finally, conservation burial grounds seek to improve and preserve land while also offering burial spaces, like in a forest.
Better Place Forests create conservation spreading forests for people who plan on being cremated but prefer the elements of a natural memorial. Return your ashes to the earth beneath a memorial tree your family and friends can visit for years to come.

---
Have a Themed Memorial
Think of something your loved one really enjoyed. Was he a big sports fan? Did she enjoy the movies? Did they enjoy hiking in the outdoors?
Take this theme to celebrate this person. Attend a sports event after the service, or have a game night. Show the person's favorite movie, or go to the person's favorite restaurant.
Unique Dress Code
Not everyone needs to wear black to a funeral service. Change it up a bit and ask guests to wear the person's favorite color, favorite attire for a hobby they enjoyed or favorite sports team attire.
Create a Memory Area/box For Always
Pick a location for the service in your home, yard or their favorite park. Invite family and friends to bring personal notes, memory cards, copies of photos and painted rocks. After the service, the family can save these mementos as a lasting memorial in their own home setting.
Livestream the Service
Since COVID has changed our ability to visit friends and family for special events, we at least now have ability to watch the memorial service by streaming it live.
According to Coxe and Graziano Funeral Home, serving Mamaroneck, Greenwich and area families for years, they can help you use technology to bring together family and friends from all over the world in honor of a loved one who has passed. Webcasting your loved one's service is a great way to involve those who are too ill to travel, those serving in the military, those who cannot afford to travel.
A nice touch is to mail a memorial program and photos in advance with a candle to all light at the same time during the service. Also keep a candle lit where online viewers can see to make them feel like they are a part of the service.
For more information on documenting end of life decisions, you can contact Westchester, Fairfield and Nassau County Trusts and Estates attorneys or Senior Care Managers for some guidance. See our STEPS Home Care blog posts on those topics here.