It is proven! Listening to music and singing positively impacts the memory and emotions of someone who has Alzheimer's Disease...and also for their caregivers. Read more to find out about local singing programs for dementia patients in Westchester, Fairfield County and Nassau.
Despite his Alzheimer's disease progression, Tony Bennett returned to the stage this summer at Carnegie Hall for two final concerts with his friend Lady Gaga who he released his first album with in 2014 and second in 2018. Tony was diagnosed with Alzheimer's disease in 2017 and his wife Susan is now his full time caregiver. Tony's family thought a final concert would provide hope and inspiration for other families devastated by this disease. Opening night was in August on Tony's 95th birthday and his fans were waiting in the 6000 seat sold out concert hall.
Last week, CBS 60 Minutes covered Tony's concert and Anderson Cooper visited him in his NYC apartment. When his piano accompanist began to play, Tony jumped right in and sang without skipping a beat. Tony does not know he has Alzheimers, but he knows he is at home and sad he was not on stage performing. His neurologist finally said "Let him Sing," as research shows it can be invigorating to his mood and the lyrics are still stored in his memory. It appears to be nothing short of a miracle, but doctors show that the hardwired part of the brain, which is music for Tony, engages auditory, movement and dance, visual, which activates the brain.
---
Music Helps Dementia Patients Recall
Memories and Emotions
Music has been found to stimulate parts of the brain, and studies have demonstrated that music enhances the memory of Alzheimer's and dementia patients, including a study conducted at UC Irvine, which showed that scores on memory tests of Alzheimer's patients improved when they listened to classical music.
A recent study shows that dementia and Alzheimer's patients can recall memories and emotions, and have enhanced mental performance after singing classic hits and show tunes from movies and musicals — a breakthrough in understanding how music affects those with dementia and Alzheimer's.
---
Singing Reduces Anxiety and Depression...for Anyone
Residents at care homes who participated in an "old time sing-a-long" were found to have significantly reduced levels of anxiety and depression, compared with residents who did not participate.

---
Music as Part of Dementia Care Improves
Mood and Quality of Life
People caring for people with dementia were coached to include singing and music listening as part of everyday care. Compared with usual care, singing and music listening improved mood and quality of life for both the person living with dementia and their caregivers.

---
Music Increases Alertness,
Happiness, and Recall of Personal Histories
A study looked at people living with Alzheimer's and they divided them into three groups with different activities for six months: puzzle activities, drawing and painting, listening to "Big Band" music from the 1920s and 1930s. The people who listened to music were shown to be more alert, happier, and had higher recall of past personal history than those in the other two groups..
---
Music and Dementia Programs in
Westchester County
Fairfield County
---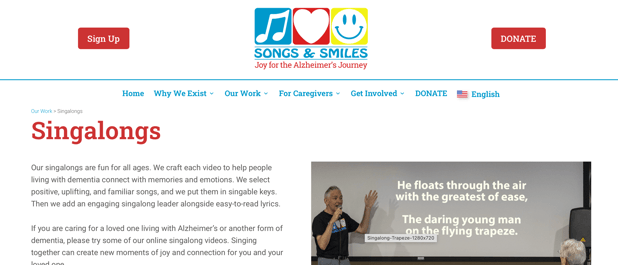 This online site provides singalongs for all ages. They craft each video to help people living with dementia connect with memories and emotions. They select positive, uplifting, and familiar songs, and then put them in singable keys and add engaging singalong leaders alongside easy-to-read lyrics.
If you are caring for a loved one living with Alzheimer's or another form of dementia, please try some of their online singalong videos. Singing together can create new moments of joy and connection for you and your loved one.
---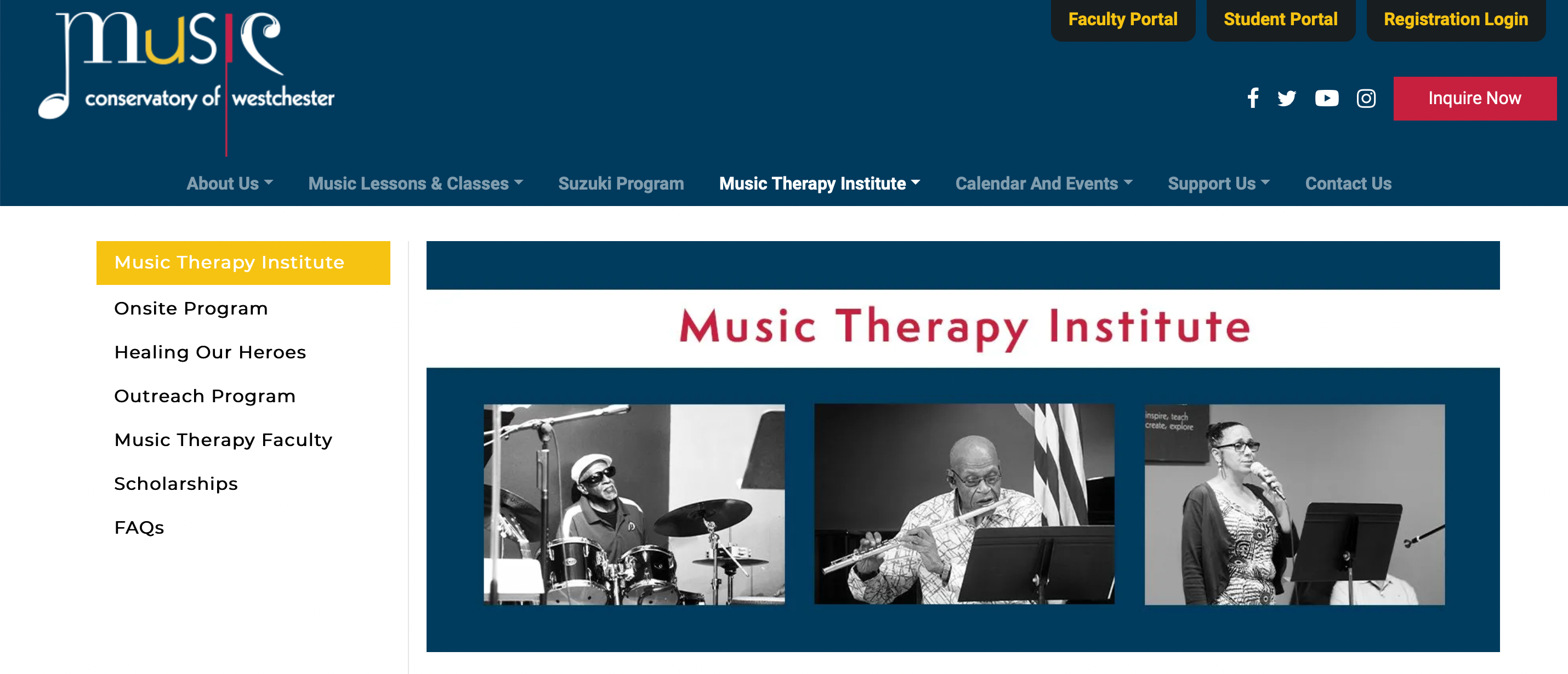 Since 1986, the Music Therapy Institute (MTI) has been the largest provider of professional music therapy services in the greater Westchester region, working individually and in small groups with over 2,000 children and adults each year. The Institute provides services onsite at the Music Conservatory of Westchester as well as throughout the county through the Institute's Outreach program.
Music therapy addresses the physical, emotional, social and cognitive well being of children and adults with a wide variety of special needs. Using the inherent qualities of music, therapists design individualized programs to provide opportunities for social interaction, allow for emotional expression, increase attention, promote growth in motor skills, increase communication skills and alleviate pain and stress. Music therapy can make a profound difference in the lives of those who participate, encouraging healing, growth, and change.
Music Conservatory of Westchester 914-761-3900 info@musiced.org
---

In 1967 the Junior League of Greenwich created The Grace Notes, an all-volunteer women's a cappella singing group with the purpose of providing therapeutic music to people in need of a little cheer. Now an independent, nonprofit organization, The Grace Notes is dedicated to bringing the joy of music to Greenwich and its surrounding communities. The group performs for audiences at senior living residences, elementary schools, hospitals, rehabilitation centers, civic organizations, special community events, and the occasional private event.
Our broad musical repertoire includes classics from The American Songbook, pop tunes, jazz standards, Motown, spirituals, country, Broadway hits, and holiday favorites. The group performs twice a month, primarily in the daytime, in towns throughout lower Fairfield County (CT) and lower Westchester County (NY).
If you would like to schedule a performance or have a general question, email at GraceNotesEmail@gmail.com.