The 2022 holiday season is here and there are so many festive and engaging holiday activities to bring your senior loved ones to and even enjoy some from your own car. Link below to access our annual STEPS Home Care list of merry events we have updated for 2022 in Westchester and Fairfield County to enjoy with family members of all ages.
Westchester County
Westchester's Winter Wonderland - Valhalla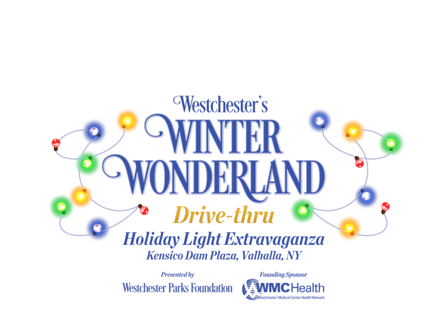 Westchester's Winter Wonderland is a 1.2 mile drive-thru experience filled with thousands of lights! Attractions include favorite elves Ned and Albert, glittering angels of peace and 50-foot dove, dancing trees, glowing snowballs, candy cane lane, a spectacular 100-foot light tunnel, Westchester's favorite 40-foot Christmas tree and so much more!
Schedule and Pricing:
The festive celebration takes place five consecutive weeks through January 2, 2022. The event will be open seven nights a week starting at 6pm Monday-Friday and 5pm on weekends. *End times vary per night. Reservations are required to avoid additional surcharges. Tickets are $25 Off Peak, $35 Peak. Price is per vehicle NOT per person.(+additional cost for large passenger vans/limos, call for special reservations).
Questions? www.wwinterwonderland.com/#faq
---
96 Hill Street​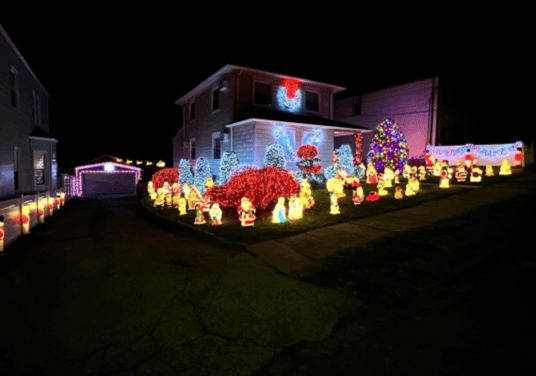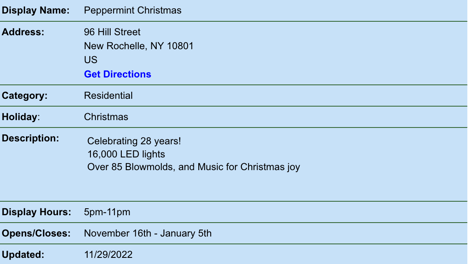 This display is celebrating its 27th year! Just a few quick turns off I-95, you'll find dazzling wreaths, decked-out trees, and lots of figurines, like Santa, teddy bears, and even Winnie the Pooh.
---
The White Plains Performing Arts Center
December 21 7:00 pm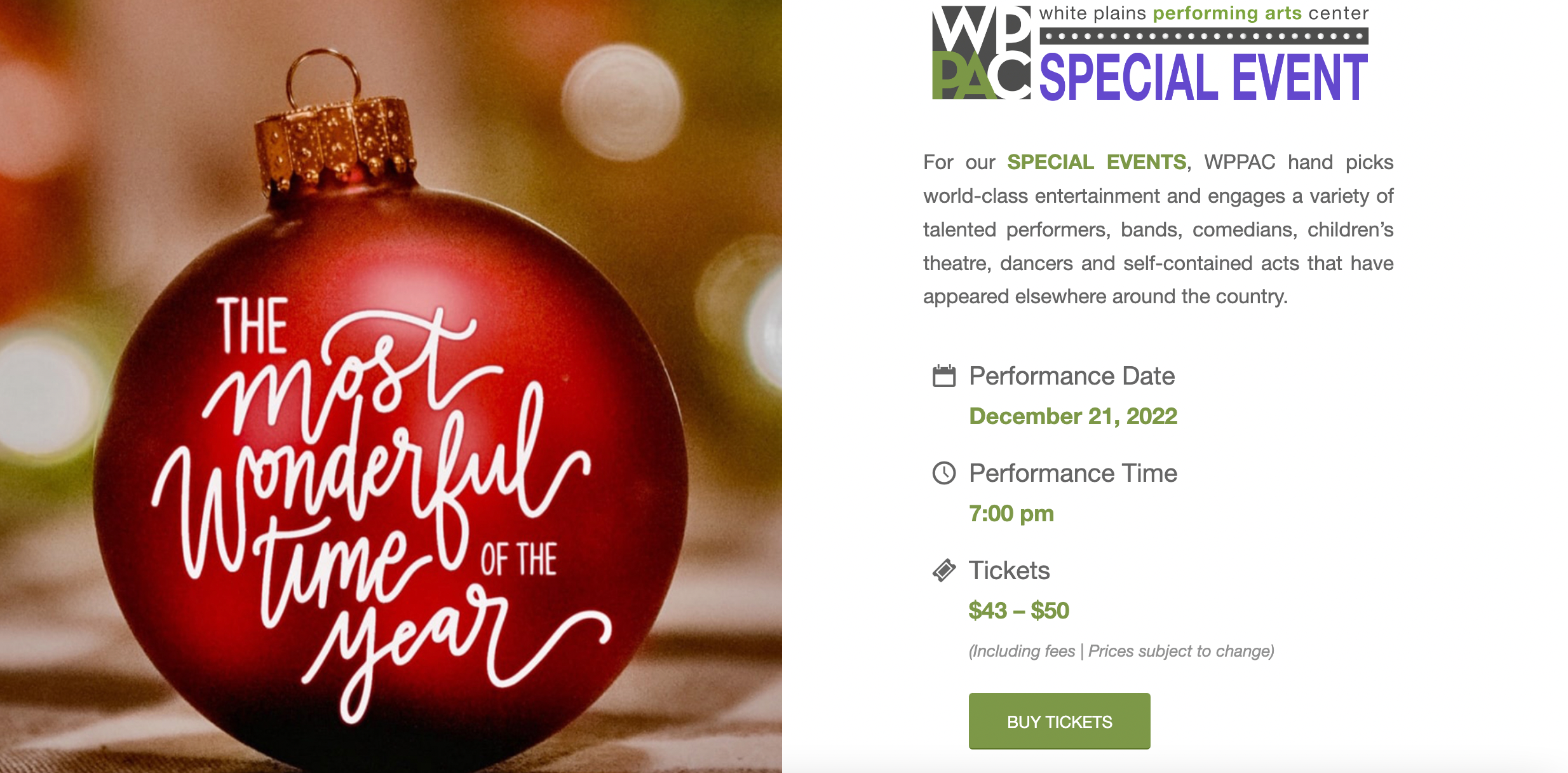 WPPAC is a professionally, "self-produced" production company featuring union and non-union actors from Broadway, National Tours and Regional Theatres across the country. Created from scratch and staffed with professional directors and designers, these productions feature large live orchestras and boast high-quality sets and costumes
---
30 Warren Place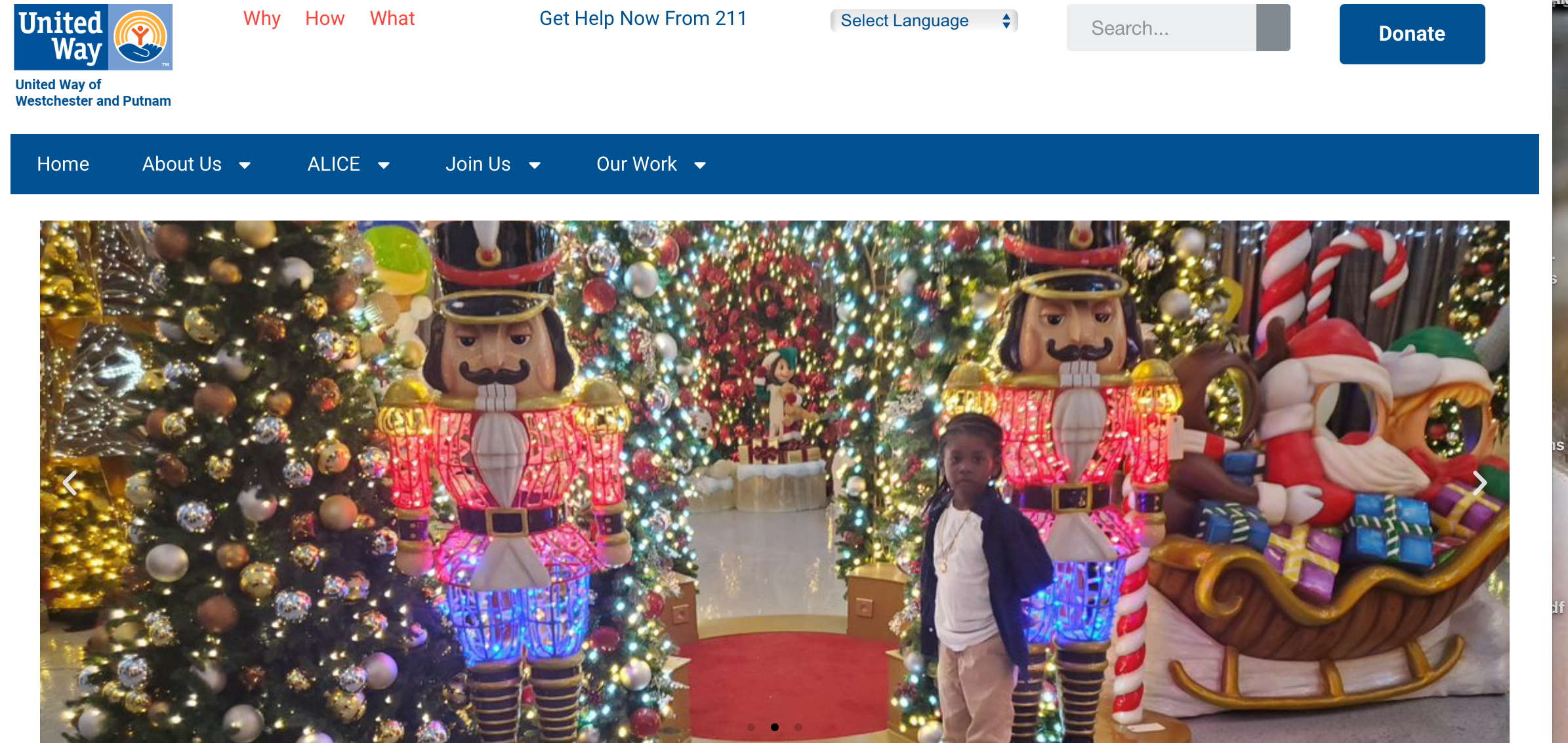 Stay warm at this indoor holiday attraction as you take selfies with 15-foot-tall reindeer and walk through a maze of festive lights.
American Christmas, creators of some of the most amazing Christmas light displays in New York, brings you Illuminations. Stay warm as you take selfies with 15-foot-tall reindeer and walk through a maze of beautiful lights. This family-friendly indoor event is sure to awe all visitors so reserve your visit now! To ensure the safety of all patrons, we will be requiring everyone to wear appropriate facial coverings and maintain social distancing. This unique Christmas experience is $5 per person, 100% of which will go to nonprofits to support Westchester communities.
Illuminations will also be open on the following dates. December 21st, 22nd, 23rd.
Illuminations will be open from 8:30 am to 5 pm in December.
Tickets are sold out when capacity 75/75 has been reached. 0/75 means tickets are still available.
---
Grand Holiday Illumination
945 North Broadway
The 2021 Grand Holiday Illumination is open every night through January 2, from 4:30 until 8:00 p.m., free to the public with NO RESERVATIONS required.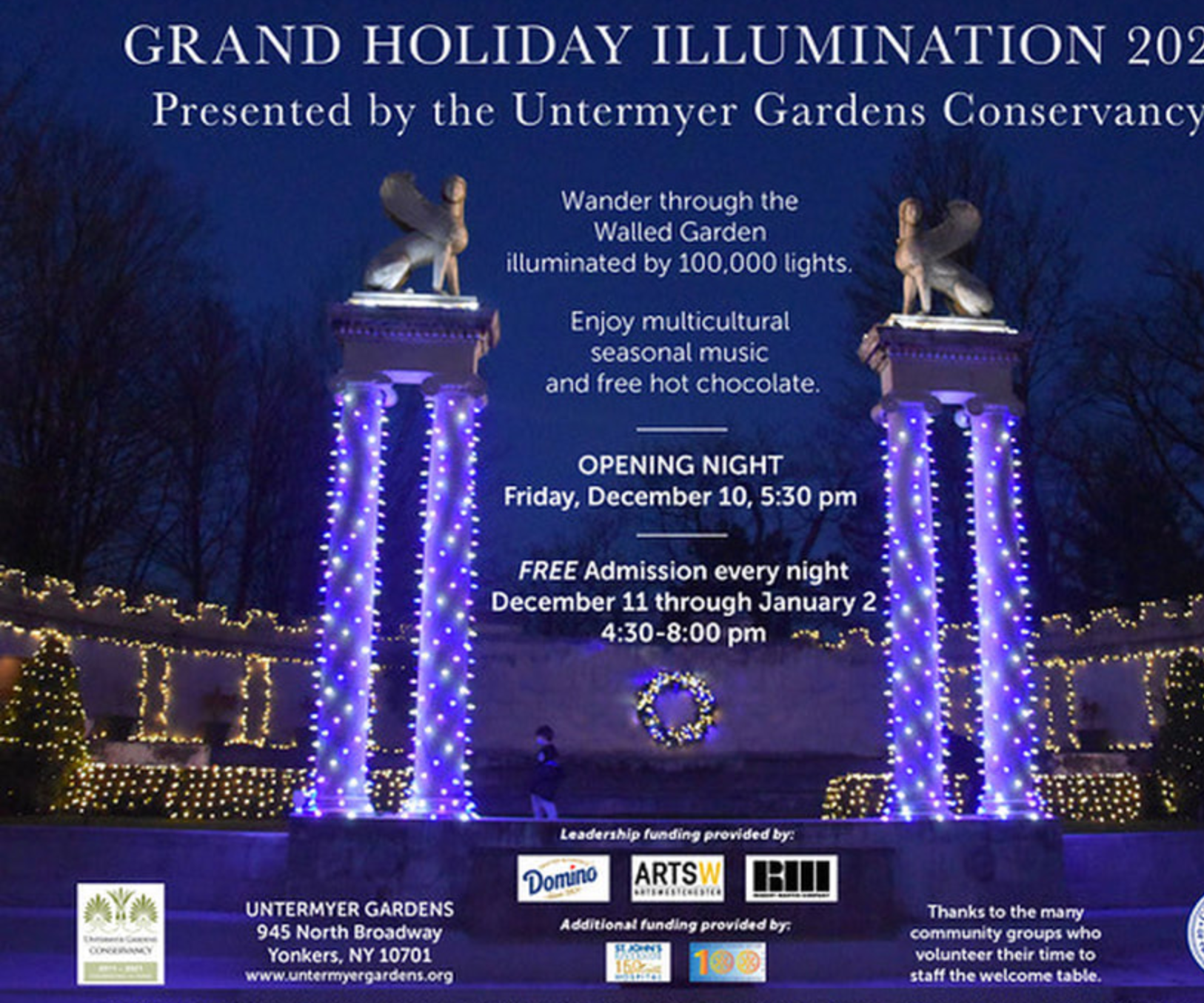 The Gardens sparkle with bold illuminations from many thousands of lights as multicultural holiday music sets the mood. Warm up with a complimentary cup of hot cocoa. This year's event does not require reservations.
---
50 Parsons Street

Looking for a little Christmas nostalgia? This long-running display in Harrison has lots of antique pieces—plus tons more. Owner Roy Aletti has been decking out his house for more than 40 years! This video has a preview of what you'll find.
---
Fairfield County, Connecticut
Mill River Park

A New Holiday Tradition Starting this November in Stamford, CT. Stroll through our new, festive, dazzling world of lights!
Over 70 amazing larger than life holiday themed displays including, the Skating Polar Bears, 12 Days of Christmas, Reindeeer in Training & much more! After the stroll hangout in our Christmas village and enjoy our state-of-the-art 30' Christmas Tree, the Half Full Winter Beer Garden, tasty holiday treats, holiday music and much more!
What is Holiday Stroll?
Holiday Stroll is a new holiday tradition located at Mill River Park in Downtown Stamford, CT. A stroll through a festive, dazzling word of larger than life holiday light displays. After strolling enjoy our Holiday Village featuring a state-of-the-art Christmas Tree, holiday music, tasty food vendors, and the Half Full winter beer garden.
When is Holiday Stroll?
Holiday Stroll takes place from November 26 to January 9. We open at 5:00 pm and close at 10:00 pm. Designated time slots for entry start at 5:00 pm and end at 9:00 pm.
Does Holiday Stroll have food & beverage?
Food and Beverage will be available on site from a rotation of CT's top food trucks and vendors. We will be serving both hot and cold beverages. Our 21+ Strollers can check out our Half Full Winter Beer Garden.
Is the event for all ages?
All ages are welcome to attend Holiday Stroll and there is something to enjoy for those of all ages!
Does Holiday Stroll have restrooms?
Yes, we do have restrooms on our grounds.
Is there security at Holiday Stroll?
Yes, attendees will pass through a security checkpoint prior to entering the experience. All bags will be searched please downsize all purses or bags that you bring with you.
Can I purchase tickets at the door?
Yes, tickets will be available at the door on event days when gates open. To ensure the most efficient method of entry, guests are encouraged to purchase online in advance. Day of event admission at the door is cash only. ATM's will be available on site.
When Should I arrive for the ticket time purchased?
5:00 pm Ticket: (4:30 pm – 5:00 pm)
6:00 pm Ticket: (5:30 pm – 6:00 pm)
7:00 pm Ticket: (6:30 pm – 7:00 pm)
8:00 pm Ticket: (7:30 pm – 8:00 pm)
Can I arrive early?
Yes you can arrive up to 30 minutes prior to your time slot. You will be allowed to access the stroll the ticket time you purchased.
Can I change my time slot?
Unfortunately, no you may not change your time slot for a purchased ticket.
What is the refund policy?
All tickets are non-refundable. Our show will operate rain or shine.
Why do I have to choose a time when I purchase a ticket?
We allow only a certain number of people to enter the event per time slot as there is a limited capacity and number of tickets we can extend for each time listed.
Do I have to bring my printed ticket to the event?
We encourage you to have your digital ticket ready for scanning on your TIXR app or alternatively, print a copy of your ticket or for scanning upon arrival.
What are my transportation/parking options to get to and from the event?
There is one entrance to the festival area, located on WASHINGTON BLVD and BROAD STREET. Mill River Park is located steps within Stamford's Downtown, offering more than 9,500 parking spaces in 15 locations. Map of Stamford Downtown Parking Locations.
500 Broad Street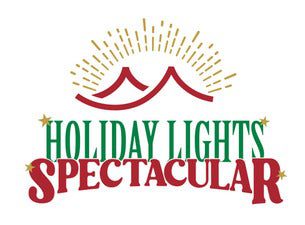 HealthCare Amphitheater in Bridgeport! One ticket gets you a magical experience for a carload of friends and family! Buy your ticket and go at your own convenience! Sun -Thu 5pm-10pm, Fri & Sat 5pm-midnight! A magical holiday light show from the comfort of your car as you wind around and through the Amp on a one-mile route of over 2.5 million magnificent lights and lasers! At every turn, the path is overflowing with magnificent holiday displays that bring your favorite holiday themes and characters to life!
---
Sam Bridge Nursery & Greenhouses
437 North Street

Santa and his LIVE reindeer - Dancer, Dasher and Prancer - are returning to Greenwich for the 13th Annual Greenwich Reindeer Festival & Santa's Workshop presented by Jenny Allen/Compass Real Estate, "The North Pole on North Street". The cherished town tradition continues for the thirteenth consecutive year at this expansive nursery where visitors can have their photo taken with Santa, meet the reindeer and also enjoy the new Santa's Workshop, which provides more space for families while they wait in line for their photo with Santa. This all takes place just minutes from downtown Greenwich. Parking is free.

---
Wilton Historical Society
December 24- January 16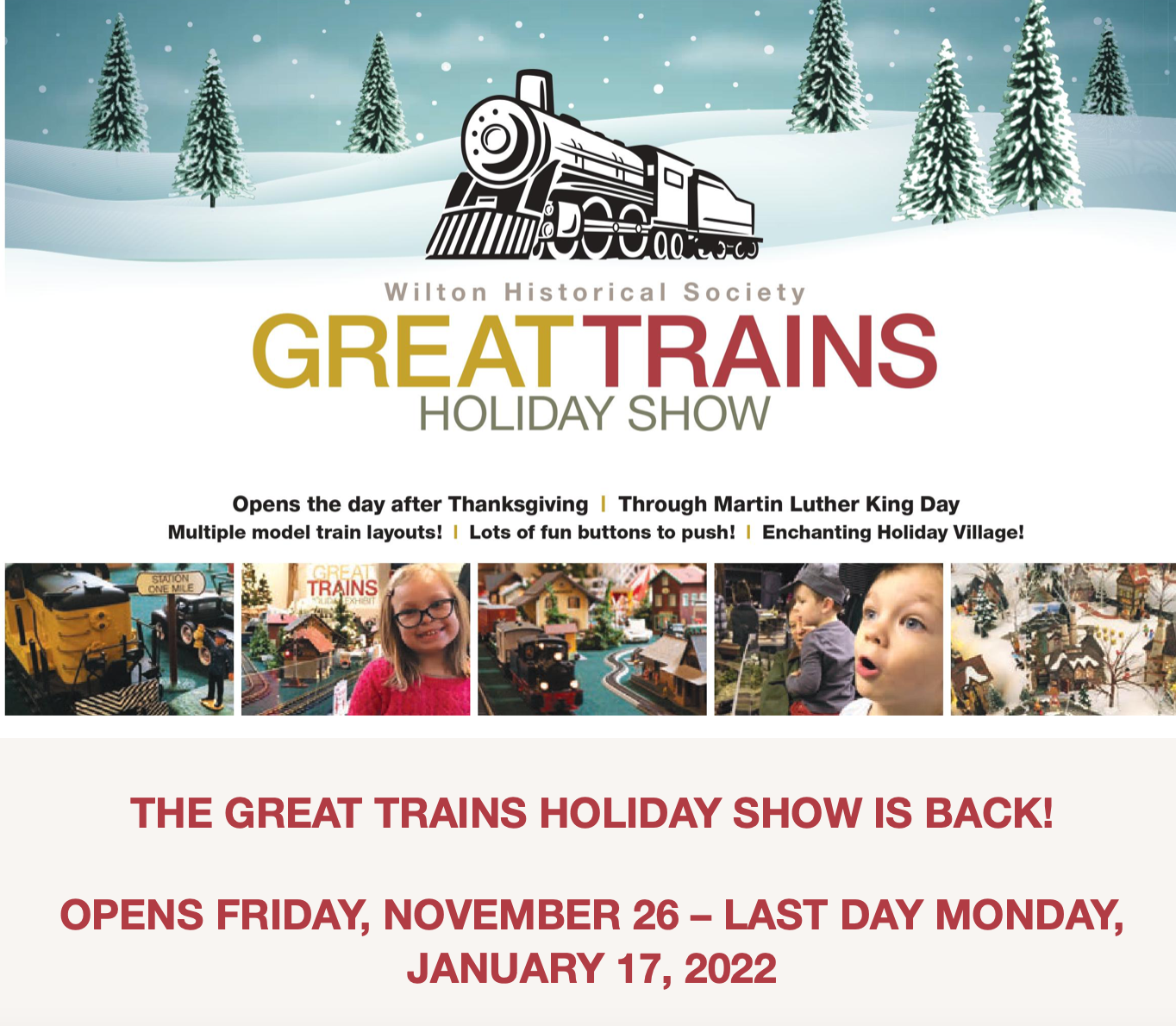 Trains, Trains, Trains – and Santa, too, for the holidays at the Wilton Historical Society!

After the familiar Thanksgiving rituals of parades, turkey and football, keep the family fun going, and enjoy the beginning of the holiday season. Take the children in your life to an entrancing afternoon with trains and live entertainment. Dressed for the holidays, the Wilton Historical Society's historic 18th and 19th century buildings are transformed into a train-lovers delight with many different model train layouts winding through tiny towns with a variety of different kinds of buildings, tunnels and even a working gondola! The display enchants visitors of all ages with lots of buttons to push and knowledgeable "train engineers" on hand to "talk trains".
GREAT HOLIDAY TRAIN SHOW SCHEDULE 2022-2023
DATES: Friday, November 25- Monday, January 16, 2023
TIMES: Open Wednesday to Saturday from 10:00 – 4:00, and Sundays 12:00 – 4:00.
Closed:
Saturday, December 24th
Sunday, December 25th
Sunday, January 1st
Open half day (10:00 – 2:00) on Saturday, December 31st
Open Tuesday, December 27th, 10:00 – 4:00
Open Monday, January 16th, 10:00 – 4:00
ADMISSION: Free for members of the Wilton Historical Society; $5 per non-member child and $10 for non-member adults. All tickets sold at the door upon arrival, no pre-purchase necessary.
---
Lower Hudson Valley
12 Jenkins Court
Dec 26 - January 6 10 AM – 5 PM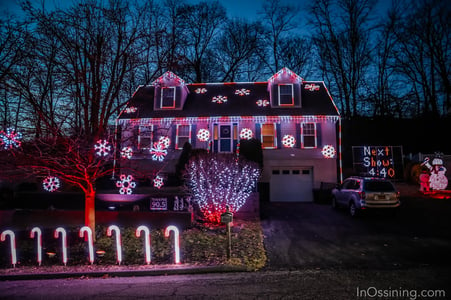 The Staples family is again decking its house for the holidays with lots of lights, snowflakes, and more. While it won't host a big opening celebration like years past—due to COVID concerns and because the family is welcoming a new baby, on Christmas, no less!— there are some fun new features, such as a Star Wars medley. Turn your car radio to 90.5 FM to check out the awesome synced-to-music show, and be sure to go to the Facebook page, where the family shares lots of fun content. You can check out the show every night from 4:30 to 9pm. Pull over to listen and watch the show, but be sure to keep the driveways clear, keep the noise down, and wear a mask and socially distance if you decide to get out of your car.
---
45 W Clinton Ave
Until December 30
10:00 am - 5:00 pm
Join us for an opportunity to experience this lyrical, eight-sided home surrounded by the sights of Christmas in 1872. The restored National Landmark will be filled with elaborate holiday décor featuring wreaths, garlands, and the sparkle of ornaments on a grand Christmas Tree inside the salon. The event will run approximately 1 hour and is best suited for guests ages 7 and up.