Ever wondered what will happen to all the black and white photos, the VCR video footage of you growing up or maybe your parents 8 mm film of their honeymoon? How can you preserve all these memories including their amazing stories they tell? Now there are so many ways in which we can capture and transform these memories of your parents in a sophisticated digital format from the comfort of their own home in Westchester, Fairfield and Nassau Counties.
Visiting with my parents, I asked my 94 year old dad to tell me the story of how he met my 90 year old mom and it goes something like this. They were a groomsman and bridesmaid in a wedding in 1954 in Chicago. As a busy doctor with no time to socialize, my dad efficiently asks all three single bridesmaids for their phone numbers. Unfortunately, or fortunately, he forgot to write their names down. Three months pass by and he needs a date for a party and he calls the first number- no answer. Second number- she has a date. Third number - my mom. And the rest is history.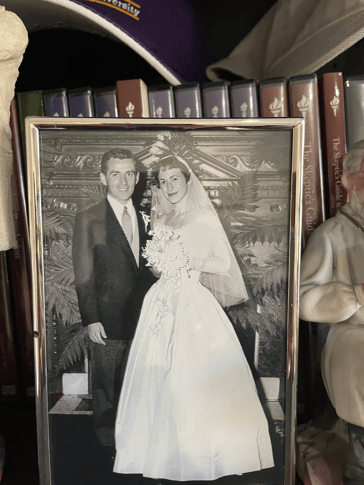 His funny and sweet story inspired me to research various memory projects that I could do with my parents to begin to capture all of their best stories and keep them written, filmed or recorded to share with my children. This is what I found.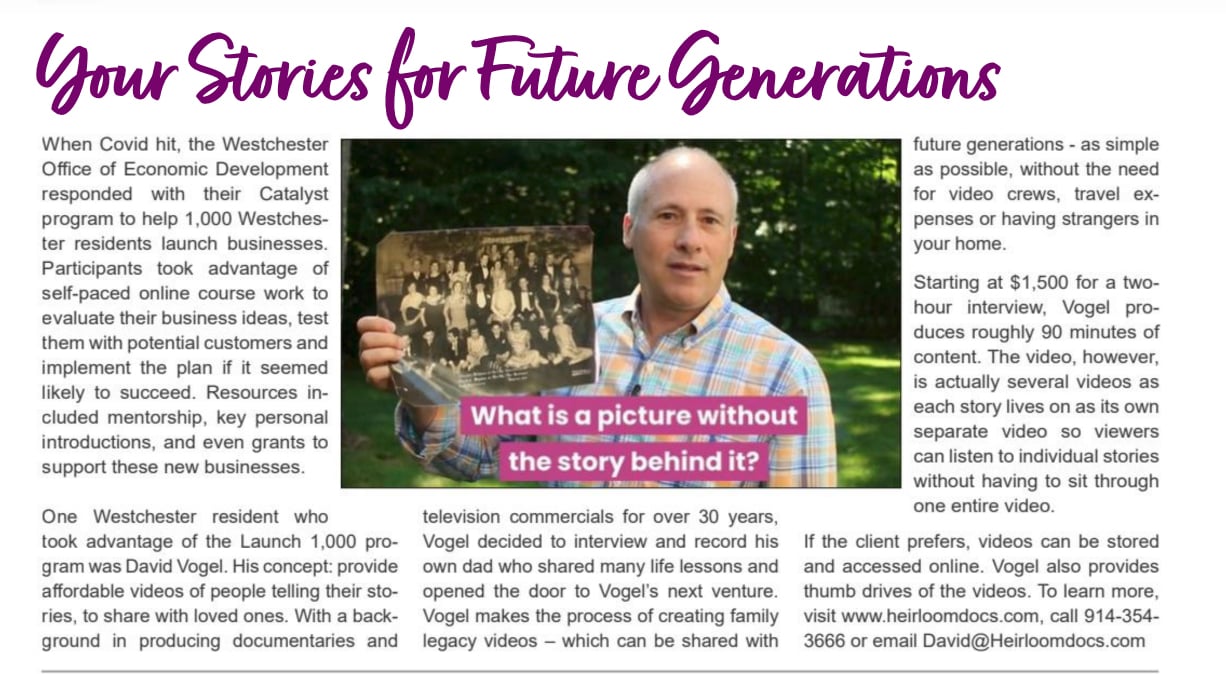 Westchester resident David Vogel launched Heirloom Family Documentaries as a way to provide affordable high-quality videos of senior loved ones so they may preserve stories to share with their loved ones. With a 30 year career in video production and television commercials, David first decided to interview and record his own dad to be able to save and share his life lessons. Realizing this was such an easy project for families to undertake, especially during Covid isolation, David launched Heirloom Family Documentaries.

The videos can be shared with future generations and without the need for video crews, travel, expenses or having strangers in your home.
Starting at $1500 (STEPS clients will receive a discount), Vogel produces each story into its own 2-10 minute video. This way family can watch the story that interests them the most. From a 2-hour interview, we usually have 25 different videos that total around 1 hour of viewable video content.
This makes it much more enjoyable for family and friends to watch one story or many stories based on how much time they have at their convenience.
The final videos are provided to the client on a USB thumb drive as well as on a private video hosting platform so it is easy to access and share with family.
Contact:
Heirloom Family Documentaries
(914) 354-3666
---
Ever wondered what will happen to all the VCR video footage of you growing up, your parents 8 mm film of their honeymoon and their first trip to Europe? How can you preserve all these memories when they are trapped on older formats, such as tapes and film reels?
Just pack your memories into your Legacybox kit with all your analog media and ship it. They include a step-by-step welcome guide, safety barcodes for every item, and a pre-paid UPS® shipping label.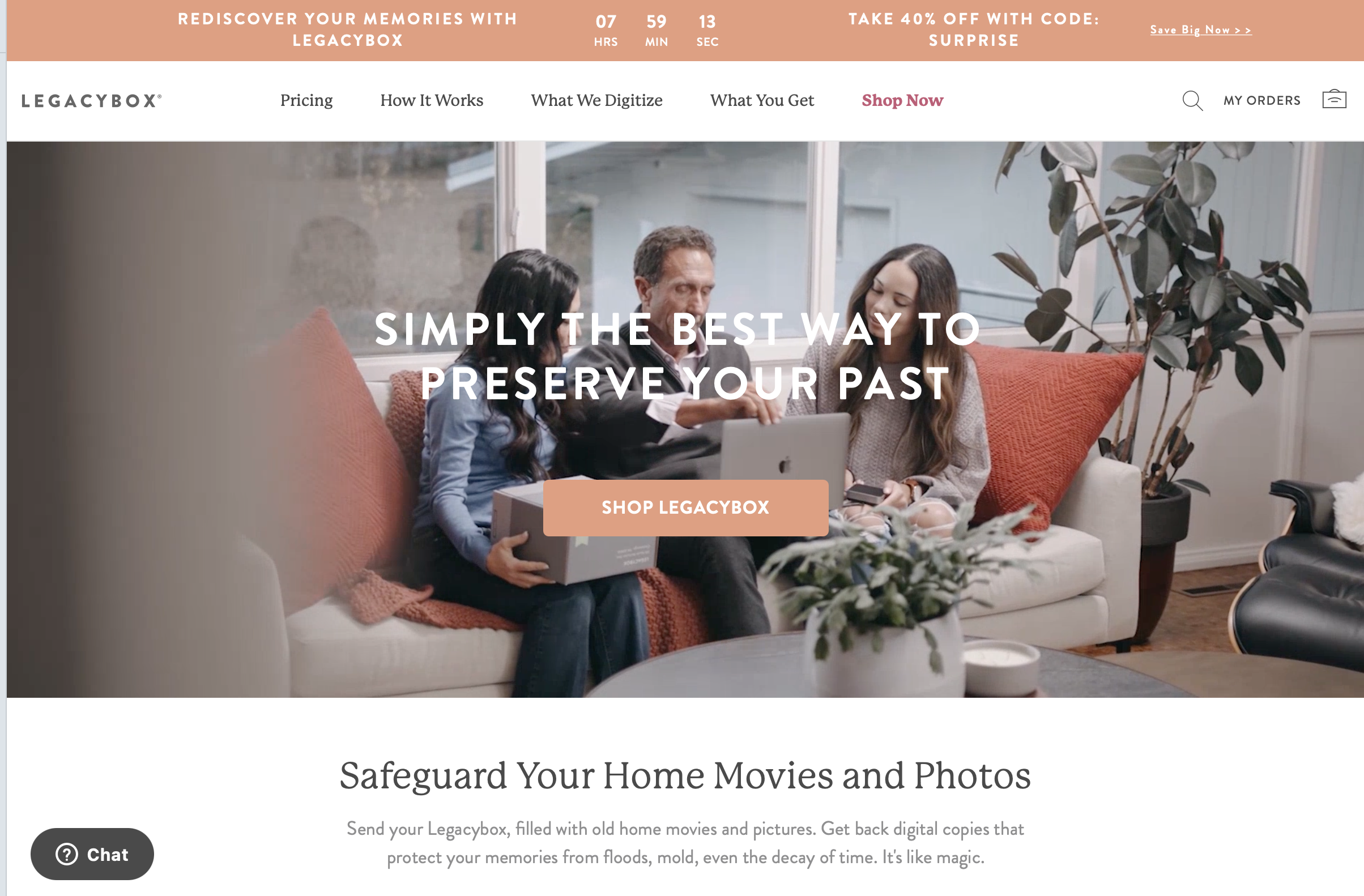 The team of professionals will digitize every item, by hand, with personalized updates provided at each step of the digitizing process. Every item you send is barcoded and tracked throughout the entire digitizing process. Log in to track your order at any time, plus receive up to 12 emailed updates.
Receive all your original media back, along with perfectly preserved copies on the cloud, thumb drive, or labeled DVD's.
---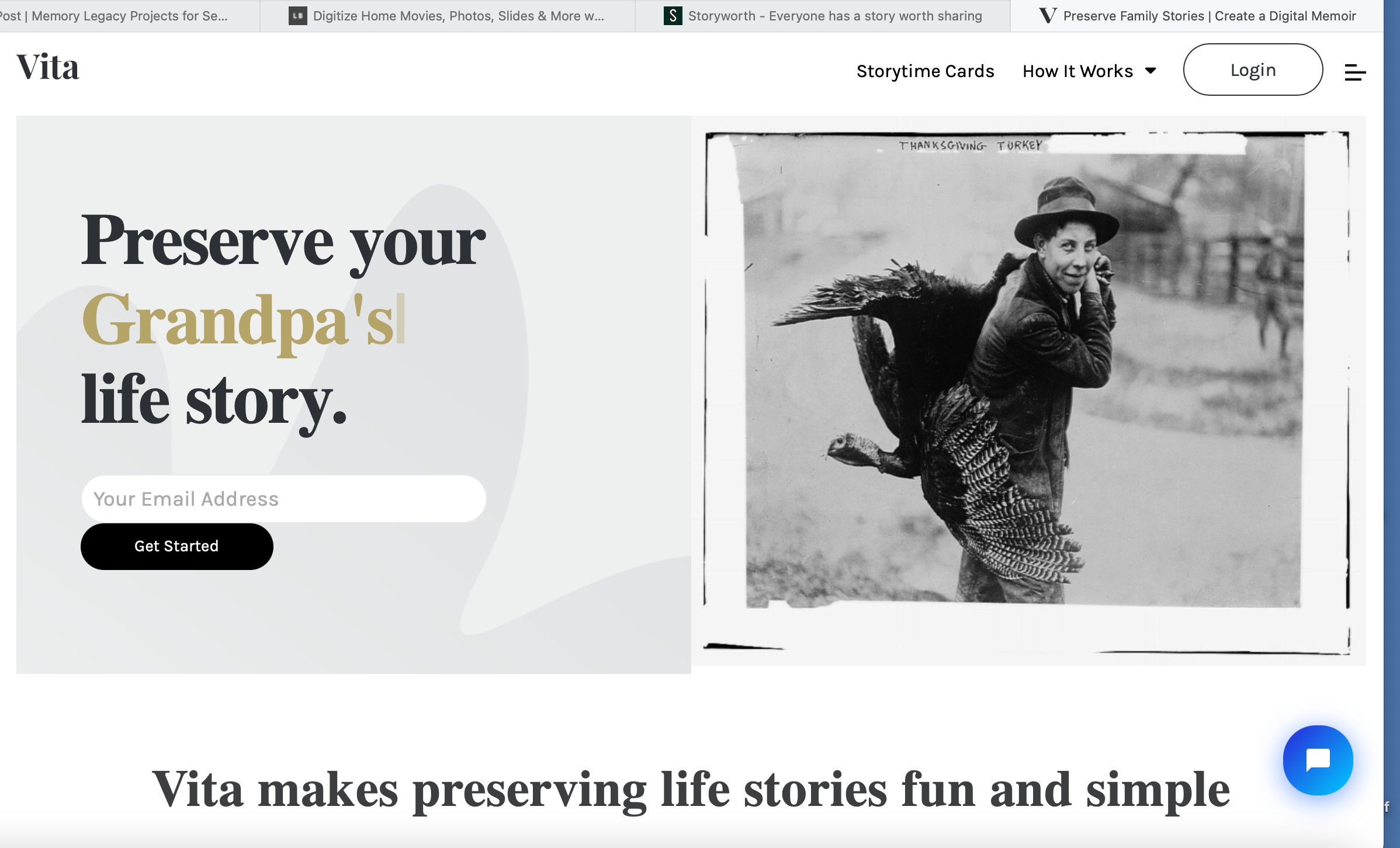 Vita memoirs are multimedia in format and are uniquely designed for future generations to appreciate. Our memoirists start by transcribing all your audio files and editing them into a narrative. When we craft the narrative, we ensure to maintain the tone of voice of the storyteller to preserve their personalities.
We then embed audio clips of the storyteller's voice within the narrative. This way, as readers scroll through the text, they can listen to voice snippets of their loved one. In addition to audio clips, we curate family photos, recipes, or other digital keepsakes that you'd like to preserve within the memoir. Our Vita memoirists can also hand-select historical pictures and media content to insert into your memoir to help younger readers visualize life in a previous era.
It's Collaborative. Vita brings families together to preserve the life stories of their loved ones. We help ignite the love, laughter and personalities of the storytellers.
It's Easy. Vita makes it simple to audio record stories – all you have to do is dial a phone number to record a conversation.
It's Uniquely Curated. Vita's memoirs are designed for future generations to appreciate. They include transcribed text, audio clips of the storyteller's voice, as well as family photos and recipes that you'd like to preserve. They can even hand-select historical pictures and media content to help younger readers visualize life in a previous era.
Interview a loved one about their life experiences. Use Vita's Storytime Cards to help prompt interesting life stories. The Cards are designed to both help you discover life stories you've never heard before and to prompt the family favorites you've cherished hearing over and over.
Option 1: Set up a free voice recording system – No software download or recording device necessary.
To use our recording system, contact us to set up a free Zoom conference line. You can dial in via telephone or join via video chat. Multiple family members can join the conference to conduct a life story interview and participate in the storytelling experience. Your audio recording will be saved automatically to your Vita account.
Option 2: Use a voice recorder app on your smartphone.
Most phones have a default voice recorder app already installed.
---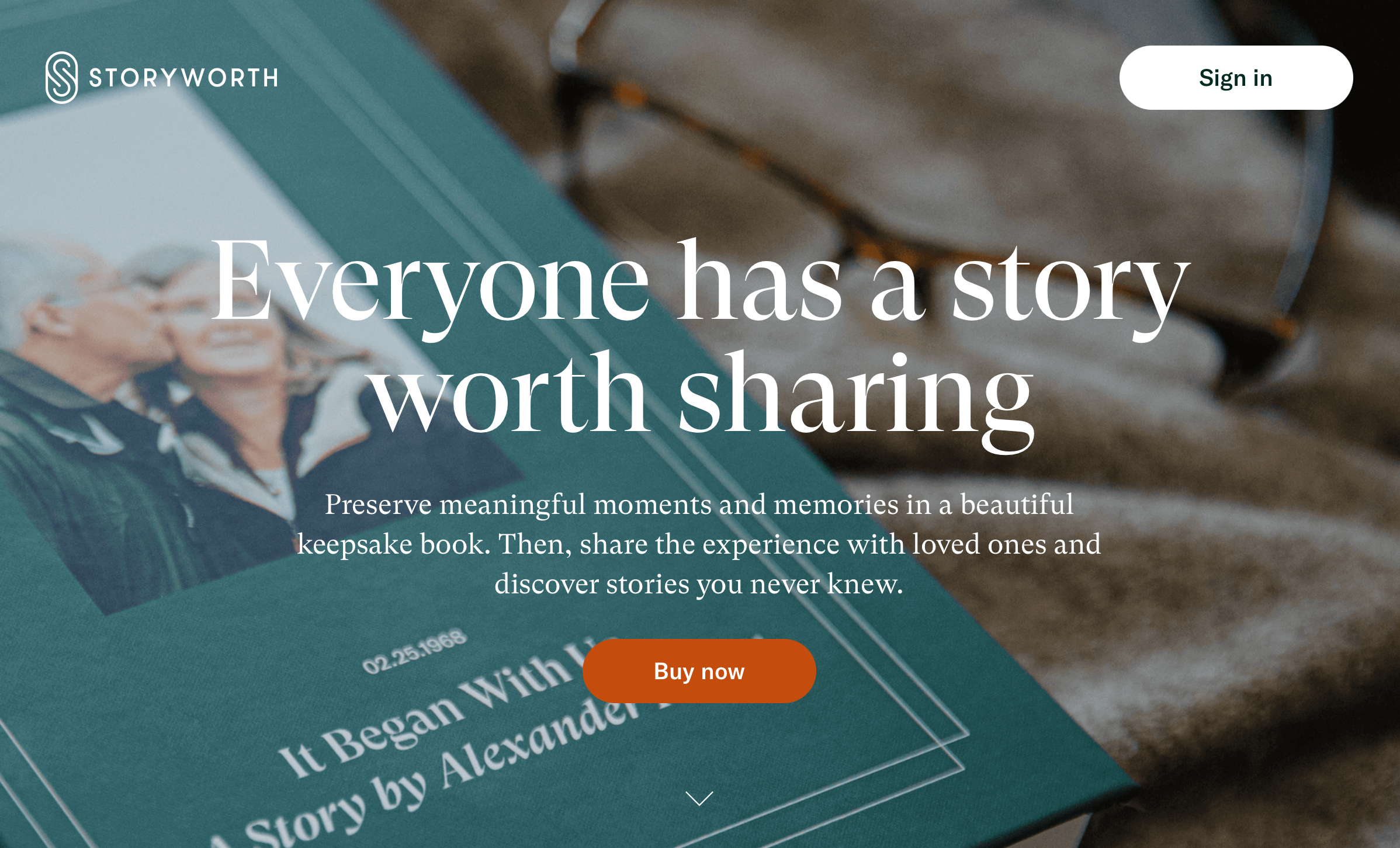 "I built Storyworth in the Fall of 2012 to make it really easy for my Dad to record these stories. We launched publicly in April of 2013, and Storyworth is now used by families all around the country and the world.
I know your family has many great stories too, and I hope that Storyworth can help you record them."
Once a week, choose a question to inspire someone to write.They'll simply reply with an email, which is shared with you. At the end of a year, their stories are bound into a beautiful keepsake book.
---
Scrapbooking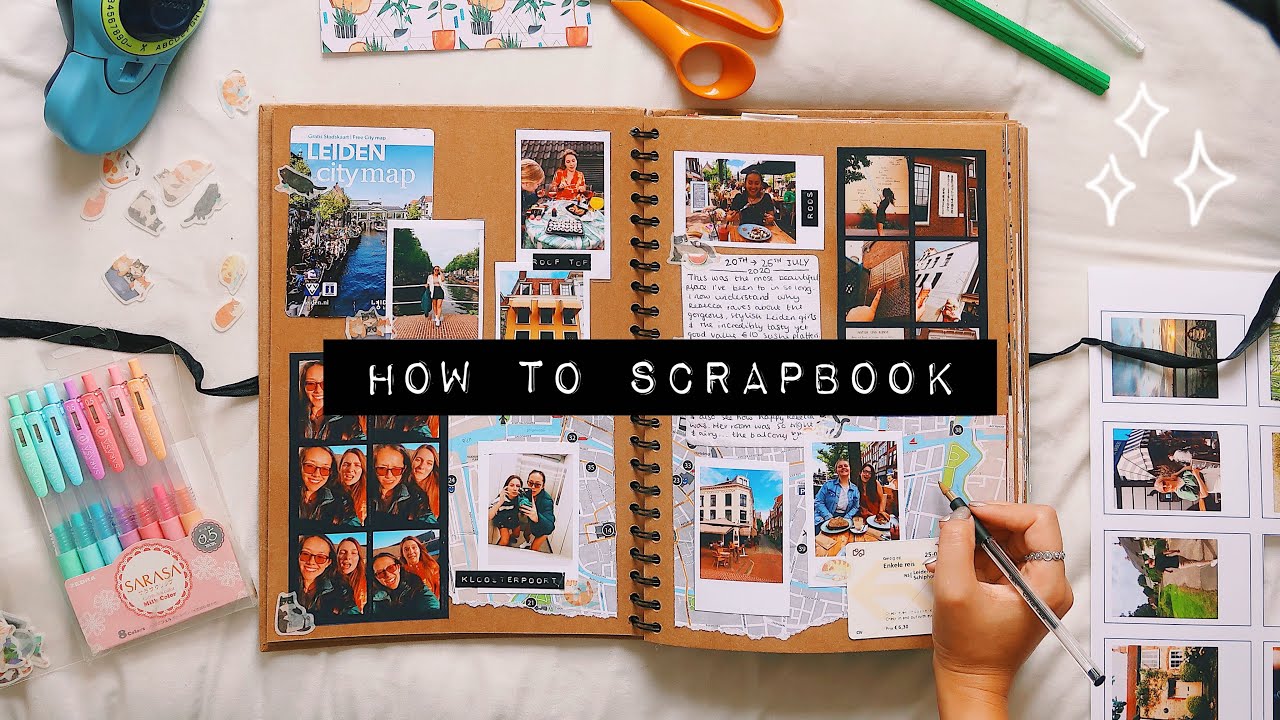 Scrapbooking, or creating a memory book, is a great way for you or your older family members to express yourself, preserve memories, and spend time indoors during the cooler months.
Creating a memory book can also reduce stress in older adults because it allows them to share stories from their life in a creative way. The scrapbooking process can also trigger memories and delay memory loss for people with dementia or Alzheimer's.
Not sure how to get started on your family member or friend's scrapbooking project? No worries, we've got you covered! Read here for easy tips to start.
We would love to hear from you and find out about any creative memory legacy projects you have done with your loved ones.