It's beginning to look a lot like Christmas with new holiday menu items available in all your favorite restaurant and coffee shop menus. Eating sweets is one of the greatest joys in life, and yes, sweets can fit into a well-balanced diet. However, with weight gain common over the holiday season, it's worth knowing exactly how many calories and fat and sugar grams are contained within each of of these holiday items in November and December. Check out our list of the 10 most high caloric, fat and sugar laden foods we love. We also include tips on how to lower your sugar intake...just a little bit.
How Much Sugar is Too Much?
Even if you don't think you have a sweet tooth, odds are we all are eating sugars hidden in everyday packaged foods, not just from the usual suspects like candy, soda and cookies. According to researchers at the University of California, San Francisco, the average American eats about 66 pounds of added sugars every year. One teaspoon of table sugar in your coffee is not the problem as it only has 16 calories and contains 4 grams of carbohydrate. The problem is the hidden sugars in packaged and pre-made foods. Even foods we think are healthful such as granola bars, pasta sauce and fruited yogurt, have added sugars leading to the average person consuming 300 extra sugar calories daily. Bottom line - Beware of processed foods with large ingredient lists including items not directly from mother earth.
The American Heart Association Suggests:
Women have no more than 6 teaspoons of added sugar daily
=100 calories or 25 grams
Men have no more than 9 teaspoons of added sugar daily
= 150 calories or 36 grams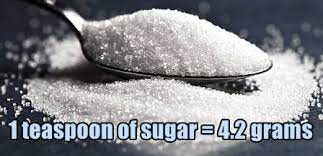 According to Lisa Bunce, MS, RDN, a Fairfield County-based Registered Dietitian/Nutritionist," Most people are aware that eating too much sugar has negative health consequences and they should be cutting back. However, many of my clients did not understand that the greatest amount of added sugar in their diets was from packaged so-called "healthy" foods… not just sugar in their morning coffee."
---
1. Tim Horton's
Gingerbread Chocolate Dream Donut
Filled Sugar Cookie & Chocolate Muffin
First, there's a filled sugar cookie... it's probably icing. Then, there is a chocolate hazelnut muffin with a chocolate hazelnut filling. Finally, there are two new seasonal Dream Donuts, one gingerbread chocolate and one "chocolate fudge pretzel." If they're anything like the other Dream Donuts, they're probably more suitable for dessert than breakfast.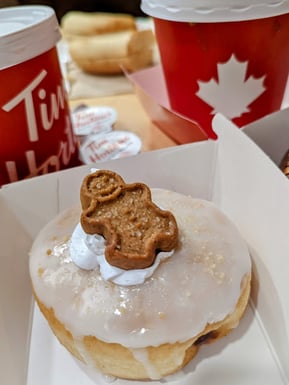 The Dream Donuts average:
350 Calories,
12 grams of Fat
31 grams of Sugar
---
2. Peppermint Bark Cheesecake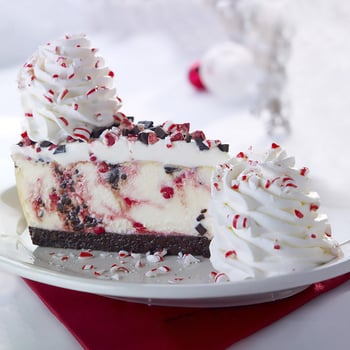 "Our Peppermint Bark Cheesecake is a fan favorite that is available just for the holidays and we are happy to welcome it back to our menu." The Cheesecake Factory
Famous for its generous portions, The Cheesecake Factory restaurant provides diners with more than just cheesecake, offering a full menu of delicious dishes, including a Skinnylicious Menu. Yet the restaurant chain is best known for its mammoth size cheesecake slices.
A slice of regular Cheesecake has
830 calories and 51 grams of sugar
The Oreo Extreme Dream Cheesecake has
1620 calories and 133 grams of sugar.
The Holiday Peppermint Bark Cheesecake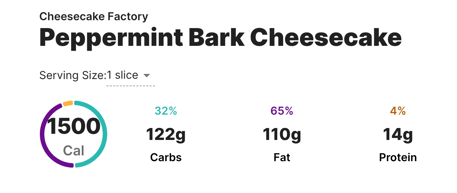 ---
3. IHOP Eggnog Pancakes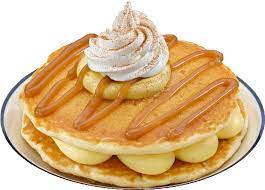 "The Eggnog Pancakes utilize eggnog cream with cinnamon and nutmeg layered between sweet golden pancakes. The entire stack is topped with a sprinkle of cinnamon sugar, a drizzle of butter rum flavored sauce and creamy whipped topping." IHOP
IHOP Specialty Pancakes average 60 - 80 Grams of Sugar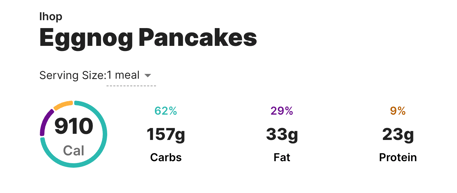 ---
4. Dairy Queen Hot Cocoa Blizzard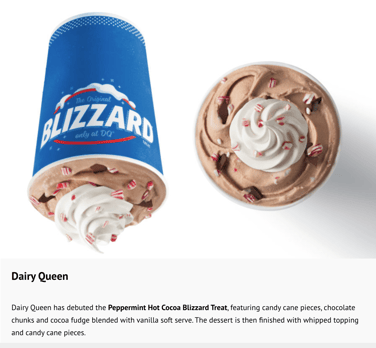 "Hot cocoa is the perennial winter drink. It's the classic go-to after a long afternoon of snowball fights, downhill sledding, and snowman building. Our OREO® Hot Cocoa Blizzard® Treat takes that hot cocoa bliss to the next level with OREO® cookie pieces and cocoa fudge, blended with our world-famous vanilla soft serve to Blizzard® Treat perfection and topped with whipped topping." DQ
The Hot Cocoa Blizzard (M) has..
1070 calories
45 grams of fat
113 grams of sugar
---
5. Applebees Holiday Drinks

Tipsy Reindeer: 300 Calories and 30 grams of Sugar
A refreshing holiday punch featuring Smirnoff Vodka, Ocean Spray Cranberry, passion fruit and premium lemon sour topped with a Santa gummy.
Berry Merry Colada: 47o Calories and 82 Grams of Sugar
A winter wonderland in a glass, this frozen Piña Colada features Captain Morgan with layers of melon liqueur and strawberry, topped with a Santa gummy*.
---
6. Holiday Yule Log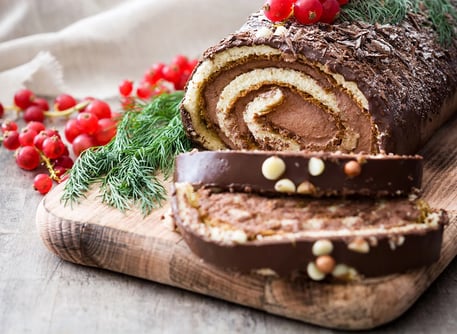 According to Eat This, Not That, "Nothing screams, "Christmas!" quite like a yule log cake. A buttercream swirl runs through the center of a log-shaped chocolate cake, all slathered in chocolate icing, along with any additional sugary decorations. While the nutritional makeup varies depending on the recipes, each slice of this festive, wintry cake is high calorie and as you can imagine, loaded up with fat and sugar."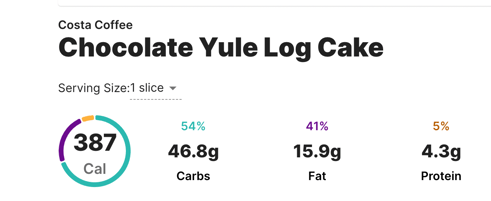 ---
7. Starbucks Holiday drink menu

You can get your familiar favorites like the Peppermint Mocha, Chestnut Praline Latte, Irish Cream Cold Brew, Toasted White Chocolate Mocha and Caramel Brulée Latte.
The Peppermint Mocha has 54 grams of sugar.

There are healthier relative newcomers this year which have less calories, fat and sugar like the Sugar Cookie Almondmilk Latte.

---
8. Pecan Pie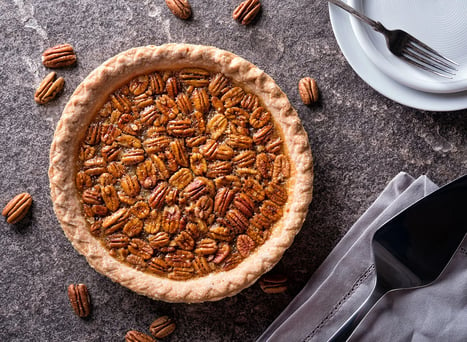 Pecans are a great source of plant-based protein, fiber, and manganese. Mix them into a sugary syrup held in place with a buttery pie crust, though, and the health benefits are quickly lost. A traditional pecan pie can contain around 500 calories per slice, and when you add the necessary vanilla ice cream, you're looking at about 700 calories for this dessert alone.
One Slice of Pecan Pie has 30 grams of sugar.

---
9. The McDonalds Celebrations McFlurry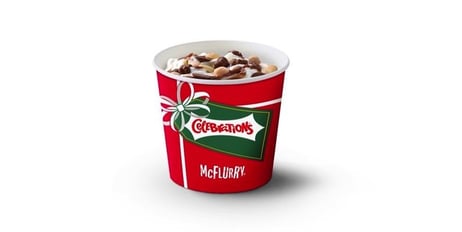 "A fan favorite, the Celebrations McFlurry is returning for 2022. It features soft dairy ice cream, swirled with (only the best) Maltesers clusters, Galaxy chocolate drops, Caramel pieces, Mars Nuggets and Twix biscuits, topped with a milk chocolate sauce." McDonalds
The Celebrations McFlurry has 46 grams of sugar (reg size)

---
10. Eggnog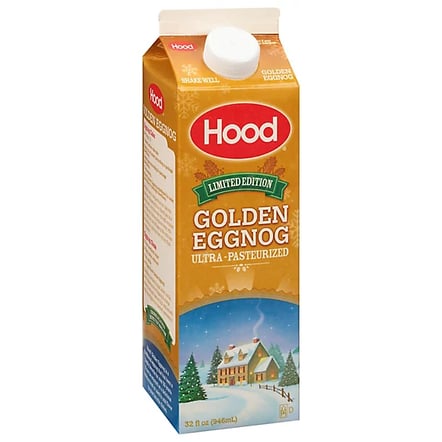 It probably comes as no surprise that eggnog is more dessert than beverage. Traditionally made with eggs, cream, milk, and sugar, even a small serving can pack significant amounts of calories, fat, saturated fat, and added sugars. And there's an additional health concern with eggnog for seniors: If it's made with raw eggs, it can be a food-poisoning risk.
One cup of eggnog has 20 grams of sugar.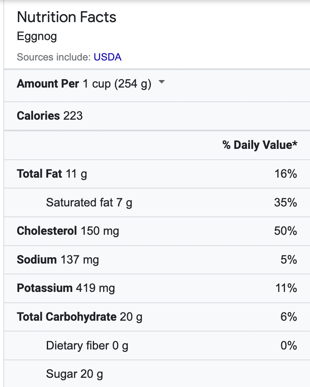 ---
How to Help your Senior Loved One
eat healthier This Holiday Season
Tips for Managing Sweet Cravings
Just as we teach our children to eat healthfully while enjoying sweets in moderation, we want our aging loved ones to do the same. Realize that letting seniors indulge in sweets in moderation provides pleasure, as well as a reason to gather socially to share a treat.
Pack in protein. Since carbohydrates are quickly digested, they provide a fast burst of energy that feels good, but the feeling does not last very long. Hence, why you crave more sugar so soon. Protein digests more slowly and leaves you feeling fuller longer. Even if they cannot chew meat or poultry well, try adding eggs, yogurt, pudding, or protein powder to recipes.

Think Finger Foods. Cut protein foods into small pieces to make eating easier if your loved one can no longer use utensils. Grilled or breaded chicken and fish cut into "strips" may be more enjoyable than trying to cut into a breast of roasted chicken.

Hide the Vegetables. Puree cooked or raw vegetables and add them to recipes. Cooked and pureed cauliflower added to a tomato sauce or raw pureed vegetables like spinach and kale taste sweet when added to fruit-based smoothies. Try some of these delicious recipes by cookbook author Missy Chase Lapine, who is best known for her clever children's recipes in the Sneaky Chef series of books, including her New York Times bestseller, The Sneaky Chef: Simple Strategies for Hiding Healthy Foods in Kids' Favorite Meals

Avoid Alcohol Before a Meal which can decrease dietary self-restraint. Or serve the alcoholic beverage or glass of wine at the end of the meal after they have already eaten protein and vegetables. Many wines and drinks have more than 2 teaspoons of natural sugars per serving including a glass of a sweet white wine or a bottle of beer.

Switch To Whole Fruit, Not Juices and Syrups. Most of your sweet cravings will disappear in a short time when you switch to sweets in natural sources from whole fruit. It may take a day or two, but soon you will realize the intense burst of sweet in a fresh strawberry tastes just as sweet as the strawberry breakfast bar you had a few days before. Beware that Sweeteners in the form of Honey, Molasses, Natural Sugar-in-the-Raw and Maple Syrup act like added sugars, quickly digestible and raising blood sugar quickly. For example, Agave nectar is NOT truly a "nectar," but a refined, processed syrup that your body will use like corn syrup or table sugar.