As Seniors age, their appetites change and it can be challenging to help them get optimum nutrition. Read more below on tips for caregivers on where to get information in Westchester County, Fairfield County and Nassau to help their loved ones continue to access and enjoy healthful meals.
As a Nutritionist, I have the unique perspective of watching my aging parents' appetites and food preferences change through their lifecycle.
Growing up in California in the 70s, I remember my parents were very keenly aware of good nutrition and healthy lifestyle habits such as not smoking and exercising every day. My father is a doctor so that may have influenced some of his healthy habits and my mom was an early adopter in the era of California Health Food.
Now that my dad is 94 and my mom is 89 with dementia, I'm fascinated by their dramatic change in appetite for foods with high calories, saturated fat and because of a loss of taste, foods loaded with sugar and sodium for added flavor.
I am thrilled they both have appetites and continue to look forward to tasty meals, even if it is not the most healthful choice, but there also has to be a healthy balance.
---
What can make it harder to eat healthy as we age?
Some changes that can happen as you age can make it harder for you to eat healthy. These include changes in your:
Home life, such as suddenly living alone or having trouble getting around

Health, which can make it harder for you to cook or feed yourself

Medicines, which can change how food tastes, make your mouth dry, or take away your appetite

Income, which means that you may not have as much money for food

Sense of smell and taste
Problems chewing or swallowing your food
How Does Dementia Cause Sugar Cravings?
The changes in the brain during the progression of Dementia can lead to intense cravings for sugary foods.
As dementia progresses, some people have diminishing taste and do not experience the full pleasure of tasting food as they once did. However, the "sweet" taste buds remain the strongest over time, leading to a heightened desire to eat sweets.

Brain areas affected in Alzheimer's disease have been shown to express insulin receptors, and insulin levels as well as insulin receptor signaling are thought to be reduced in Alzheimer's. In Alzheimer's, a drop in brain insulin or a lack of insulin cell sensitivity can lead to intense cravings for high-calorie foods.

Studies show that dementia attacks the area of the brain - prefrontal cortex - responsible for self-restraint in food choices. This may lead to the instant gratification of choosing sweet and sugary foods.

---
What is the MIND Diet and
How Can It Help Seniors age well?
To date, researchers have shown that brain-healthy foods containing antioxidants and Omega-3s, vitamin E, folate, flavonoids, and carotenoids, may reduce inflammation and prohibit amyloid deposits, both of which are thought to be connected to neurodegenerative diseases. MIND (an acronym that stands for the Mediterranean-DASH intervention for neurodegenerative delay) is a "hybrid of the Mediterranean diet and DASH diet, and research suggests it may reduce the risk of developing dementia or slow the decline in brain health.
Below are ten brain-healthy foods to try to get your loved ones to eat:
Green leafy vegetables – aim for six servings a week. These include spinach, kale, collards, Swiss chard, mustard greens, turnip greens, dandelion greens, arugula, endive, grape leaves, and romaine lettuce.
Other vegetables – aim for at least one serving a day. These include green or red peppers, squash, carrots, broccoli, celery, potatoes, peas or lima beans, tomatoes or tomato sauce, beans, beets, corn, zucchini, summer squash, zucchini, eggplant, coleslaw, or potato salad.
Nuts – aim for five servings a week. Try peanuts, almonds, walnuts, cashews, pistachios, or nut butter.
Berries – aim for two servings a week. Try blueberries, strawberries, raspberries, or blackberries. Frozen berries work, too, when berries are out of season.
Beans – have beans during at least three meals a week. Try black, pinto, cannellini, garbanzo, kidney, and lima beans, lentils, edamame, tofu, hummus, or soybeans.
Whole grains – aim for three servings a day. You want dark or whole grain bread, brown rice, whole grain pasta, wild rice, quinoa, barley, bulgur, oats, or whole grain cereal.
Fish – eat at least once a week.
Poultry – have for two meals a week.
Olive oil – have this be your primary oil.
Wine – have one glass a day.
---
Where Can a Caregiver Get
nutrition information?
2. The American Academy of Nutrition and Dietetics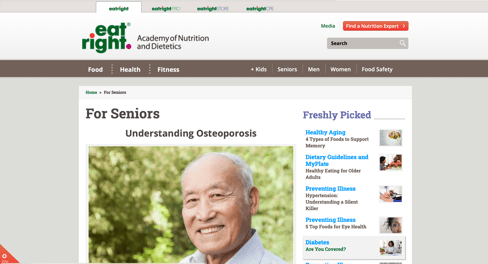 Not only can you access credible and timely nutrition information for seniors, but you can reach out to find a Registered Dietitian Nutritionist (RDN) in your area.
---
Nutrition Information and Healthy Meals
Available to seniors
in Westchester County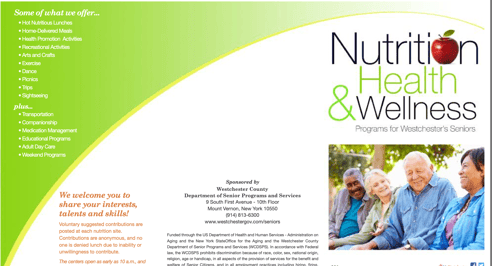 This service provides meals and services for adults, 60 years and older. Meals are provided at congregate dining centers and by home delivery throughout Westchester County. Meals are available five or more days per week at approved nutrition sites and multi-purpose centers and to medically-eligible homebound seniors who are unable to participate at congregate sites. Pre-registration is required.
The nutrition programs and meal service are monitored by the Nutrition, Health and Wellness Division of the Westchester County Department of Senior Programs and Services to ensure compliance with federal, state and county regulations. Download the printable brochure, Nutrition, Health and Wellness: Programs for Westchester's Seniors.
The menus are planned by a Registered Dietitian Nutritionist (RDN) and provide at least one third of the recommended dietary intake (RDI). The meals are prepared locally and the menus change seasonally. In addition to a delicious, hot lunch, many of our congregate dining centers include various social and educational activities - in which you are invited and encouraged to participate, such as exercise programs, dance, arts and crafts, health promotion activities and outings.
The RDN is available for nutrition counselling or medical nutrition therapy guiding seniors to making healthy choices based on their medical conditions. Seniors are counselled on their individual nutritional needs, the relationship between diet and disease with the goal of enjoying mealtime and staying healthy. Nutrition education is also provided by an RDN for congregate as well as homebound seniors receiving meals.
For both congregate and home-delivered meals, they kindly ask for a small suggested monetary contribution. Contributing is voluntary - you will not be denied lunch due to inability or unwillingness to contribute. All contributions are required to go directly back to the nutrition program. All seniors can participate in the meal program regardless of income.
---
Nutrition Information and Healthy Meals
Available to seniors in Fairfield County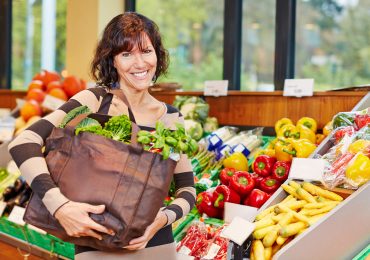 The Connecticut Elderly Nutrition Program provides nutritionally balanced meals to individuals 60 years of age and over and their spouses. The program offers these adults the opportunity to live independently in their community by providing socialization and informal support networks. Meals are served at congregate meal sites, known as "Elderly Nutrition Providers". The cafes are located in senior centers, elderly housing facilities, schools, churches, restaurants and other community settings. The program also provides nutrition screening, assessment, education and counseling to help participants meet their nutritional need. Home delivered meals may be provided to adults age 60 and older who are homebound or isolated.
---
Are you or a loved one finding it too difficult
to do your own grocery shopping?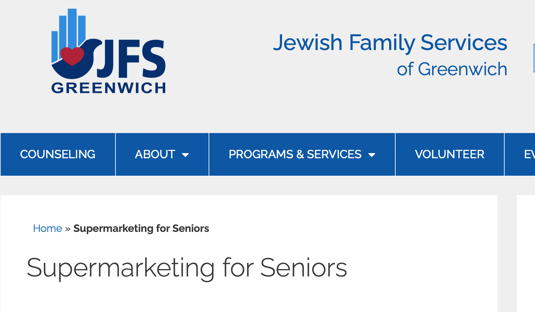 Greenwich, CT
In Greenwich, Jewish Family Services offers a helpful supermarket shopping service for home-bound Greenwich residents, aged 60 and up. Since 1986, they have been providing this unique, non-denominational grocery shopping service with care and compassion. If you or a family member are in need of this service, please contact them and they will connect you with a well-trained and thoughtful volunteer who can assist you. For more information, please call 203-622-1881, or simply complete the online form at the bottom of this page.