Even if your senior loved ones have caregivers in their own home and are aging in place, a visit a few days a week to an adult day care (ADC) program can provide them with an opportunity to socialize with peers and lessen the feeling of loneliness that many may experience at home. Just to be clear, ADCs are not regular senior centers for healthy able-bodied seniors, but adult day care programs in Westchester County and Fairfield County that provide added services and supervision to those who have functional limitations such as cognitive and/or physical disabilities. ADCs help older adults continue living at home or in the community as long as possible by giving them a social outlet to thrive. Not only do seniors benefit, but ADCs also play a vital role in providing respite for caregivers.
A few years ago, I volunteered at our local Greenwich Adult Day Care Center, Riverhouse, where I ran a weekly Scrabble game. Every Wednesday, I was delighted to see my new friends, many seniors with cognitive disabilities but who were still able to engage in thoughtful conversation and create words to keep a Scrabble game going. Often, I would help with words, sometimes being sneaky and playing entire hands while giving them credit. I had one rule which was that we needed to look up any new words we did not know, which led to some interesting discussions about the context of the word and their memories. The seniors at Riverhouse were nurtured, engaged and enjoying their time with their peers from morning to afternoon. I can not think of a happier and more nurturing place to have my aging loved one spend a day or two each week.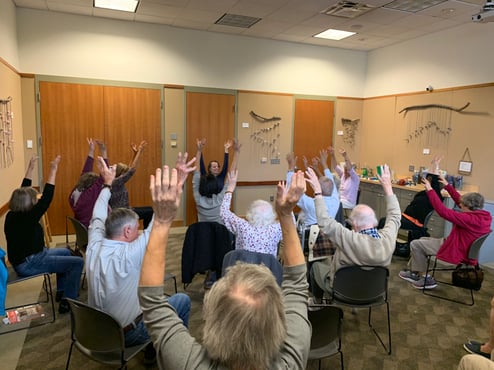 Here is a sample of some activities that your seniors can be engaged in at an ADC.
Games and team activities - balloon volleyball, trivia, BINGO

Exercise classes - chair yoga, tai chi, chair dancing

Music, art, and animal therapy

Memory enhancement programs

Gardening and baking

Trips to local cultural organizations, parks, and beaches. Below is a photo from one of our Stepping Out field trips to Island Beach in Greenwich on the town Ferry.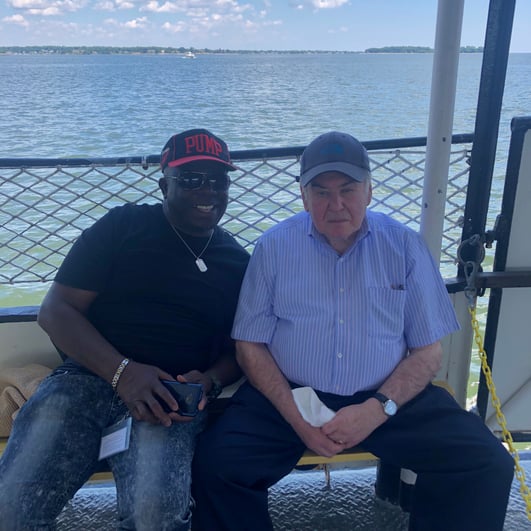 ---
It is important to keep in mind the following criteria when checking out ADC centers near you:
Ensure there are enough staff members to look after and attend the men and women at the center. The National Adult Day Services Association, a nationwide organization geared towards developing and advocating for adult day services, recommends that programs catering men and women with dementia have a one to four staff-to-participant ratio.

Look at the activity calendar to see whether they offer events and activities that your loved one would enjoy participating in.

Keep your nose on alert and check for odd odors or an unclean smelling facility.

Check to see what transportation options are available to get your loved one to and from the center.

If your loved one has specific dietary needs, be sure to inquire whether the center can accommodate them.

Ask about the types of personal care services (e.g. toileting, eating) are offered.
---
Westchester Adult Day Care Centers

My Second Home
Mount Kisco
My Second Home is an Alzheimer's and dementia-focused social adult day care program for participants ages 50 and over, located in Mount Kisco, New York.
My Second Home's award-winning intergenerational day program offers our participants the chance to interact with the young children who attend the Mount Kisco Child Care Center, which shares the My Second Home building at the opposite end.
---
Yonkers
Live Young Adult Day Care Center provides a engaging, friendly and fun safe haven with reliable staff. Our social adult day care center was designed to meet the needs of functionally impaired adults while allowing them to remain in their neighborhood settings. Live Young Adult Day Care Center's structured program is designed to support the physical, mental, emotional, and social functions of its participants to prolong their life and independence.
Our highly-trained, bilingual staff offers activities that enhance cognitive abilities and interaction with others, helping you feel good physically and emotionally. Live Young is the key to better health and a place to socialize where individuals can make new friends.
---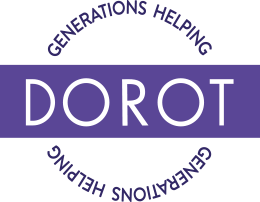 Westchester
Through in-home visits and creative programs that build vital social connections in person, over the phone and within the community, DOROT has been improving life for older adults age 60+ in Westchester County for more than a decade. A majority of our Westchester offerings take place in seniors' homes. A member of our social work team will visit with each older adult who wishes to participate in these specific programs. Our skilled social workers are proud to also provide vital support to older adults who join our programs.
---
Fairfield County Adult Day Care Centers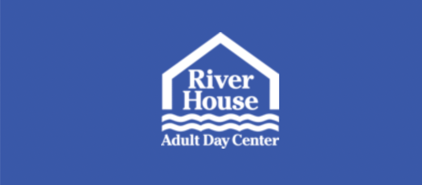 Greenwich
Adults who wish to remain in their community but require daytime assistance come to River House up to five days a week to participate in vibrant activities, socialize with their peers, and receive compassionate care. Individuals challenged with dementia, Alzheimer's disease, arthritis, diabetes, stroke, depression, traumatic brain injury, cardiac or pulmonary disease, vision/hearing loss, or other age-related ailments, greatly benefit from River House's team of nurses, health aides, and therapeutic recreation staff who are trained to support their unique needs. River House follows a medical care model where nurses work with every member, their doctors, and their family to provide a personalized plan of care that enhances the member's overall well-being. By providing this crucial daytime care, caregivers are given the respite and peace of mind needed to effectively care for themselves and their loved ones.
---

Norwalk
While our clients continue their journey in life we want them to know they have options. Caring for Seniors ADC is an organization that believes in prompting quality of life, independence, dignity but most importantly our clients and their families know they are safe. With this in mind, we want our clients to have the options to be home with a nurses aide or have our shuttle transport them to and from the Center.

For additional security, we have also added a buzzer system. In return, this will increase security for the clients and staff. The Buzz-in system has an intercom system. The system makes this buzzing sound to notify our staff when we have a visitor. It also notifies staff when the door is open. Providing our clients the option to be safe is truly one of our Visions to allow them to be independent!
---

Norwalk
ElderHouse is an award-winning Adult Day Center that provides older adults with full days of social engagement, enjoyable activities and personal attention to enhance health and wellbeing. While seniors are at ElderHouse, family caregivers benefit from reliable, affordable, high-quality care for their loved one and regularly scheduled days off from their caregiving duties. Enroll today! Call us for a complimentary day visit at (203) 847-1998.